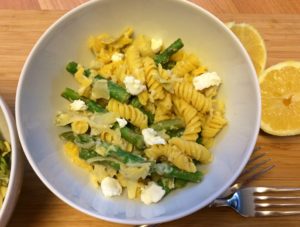 ~Amanda~
Spring has sprung and it is gorgeous and green outside, and it has been so wondefully warm this past week… although, it's pouring rain out now and snow is also potentially on the way so that's kind of interfering with my spring time vibes in this post. Oh well, I'll reminisce about last night when it was still nice out and I was in the mood for a nice light dinner made with one of my favorite spring/summer ingredients – asparagus! Asparagus is such a great vegetable that can be used in so many dishes; you can roast it with sundried tomatoes and garlic for a yummy side dish, you can put it in your favorite breakfast fritatta to add a new spin to it, or you can incorporate it into an awesome lemony pasta dish, like I do here! This is not just a perfect dish for spring, but it's also super quick and easy to prepare, making it the perfect weeknight meal when you don't want to spend a long time cooking after a long day.
You may be surprised that as someone with celiac disease that I am absolutely obsessed with pasta – but it's only because I discovered the best gluten free pasta EVER made by Ancient Grains. I'm sure you've seen me post about it many many times, but that's just because it's so good and I love that it's made out of quinoa and has a good amount of protein in it. In this recipe I use the Rotini pasta. When you make it, you can use regular or gluten free pasta and Rotini, Bow Ties or something similar in shape will do just fine. Now back to our star spring ingredient, the asparagus; to make the asparagus, I love to saute it in some olive oil rather than boiling it. I think this is so much greater because you keep the crisp texture while softening it just a bit and you get a little added flavor too. I also add the artichoke hearts to the pan with the asparagus to saute as well and infuse more flavor into everything.
What really makes this dish taste light and spring-y is the lemon. Both lemon juice and zest add layers of citrusy flavor to the pasta. I love lemon in pasta because it adds so much flavor to the dish without being heavy like a cream sauce would. However, you gotta have a little something creamy and rich when you're making a pasta dish which is where the goat cheese and parmesan come in. When I have made similar dishes in the past, I have used only parmesan cheese, but I had some goat cheese in the fridge too so I tested it out and will always be using both going forward! The salty parmesan combined with the creamy and savory goat cheese is just divine. And when that's combined with the crisp asparagus, tangy artichokes, and citrusy lemon you have just enough of every flavor and texture to make this the best pasta dish ever that you are sure to love… Enjoy!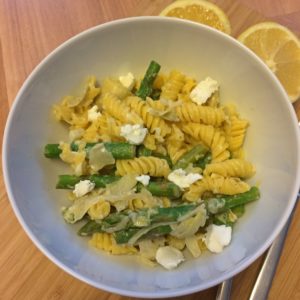 Lemony Asparagus and Artichoke Pasta
2017-04-25 14:52:52
Serves 4
Ingredients
½ pound asparagus, cut in 1½" pieces
4 cups uncooked rotini or bow tie pasta (can use GF)
3 tablespoons olive oil
14 ounces canned artichoke hearts, drained and cut in quarters
3 garlic cloves, minced
½ teaspoon cayenne
¼ cup goat cheese, crumbled
⅓ cup parmesan cheese, grated
2 lemons, zested and juiced
Salt and pepper, to taste
Instructions
Cook pasta according to package instructions. Reserve 1 cup of cooking water and then drain and place pasta back in pot and set aside.
Heat 2 tablespoons of olive oil in a large skillet over medium heat. Add the asparagus and saute for about 5 minutes, then add the artichoke hearts and saute for another 3-4 minutes.
Add the garlic, cayenne, half the lemon zest and juice, salt and pepper and toss to combine.
Add the asparagus mixture to the pot with the pasta along with the goat and parmesan cheeses and remaining tablespoon of olive oil. Toss until cheese has melted and everything is combined. Add some of the extra pasta water if the mixture seems to thick.
Serve topped with the rest of the lemon zest and juice and enjoy!
The Sisters Kitchen http://www.thesisterskitchen.com/