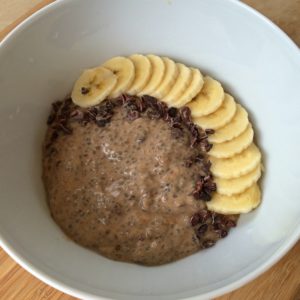 ~Amanda~
I did the Whole30 last month and there were so many recipes that I became obsessed with and have continued to make even now that I am finished with it. This Banana Almond Butter Chia Pudding is one of those recipes. I make a batch of this every Sunday and have two mason jars ready to go for breakfast for two days during the workweek (and I make our amazing Sweet Potato and Sausage Breakfast Quiche on Sunday's to have for breakfast the other three days of the workweek). This chia seed pudding is a great alternative to your traditional overnight oats, with some added nutritional benefits from the awesome chia seeds – they are SO good for you – so not only is this pudding delicious, but it's also super nutritious!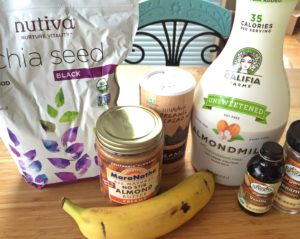 I have tried multiple recipes for chia seed pudding, but this one quickly became my all time favorite because it has so much flavor and texture to it (some can be so bland and boring). By processing the banana together with almond butter and almond milk before combining it with the chia seeds (rather than just adding almond milk), you get so much added flavor. I don't know many people who don't love bananas and peanut butter so to have a variation of that by combining banana and almond butter for breakfast is pretty much the greatest thing ever. Plus adding some cinnamon to the mix just gives it that extra warmth and spice and makes the banana and almond butter flavors pop even more.
I recently started adding cacao nibs to this chia seed pudding too and it is so so good! The cacao nibs are a great alternative to chocolate chips in whole30 recipes and they add some great texture in the pudding as they hold their shape and bite well so it keeps you from getting bored with just a bowl of mushy pudding. So once you have all your ingredients combined, you pour the mixture into two smaller mason jars and refrigerate overnight (or up to 3 days) until ready to have them for breakfast. These are even better when you top them with a little extra sliced banana, almond butter drizzle, and some extra cacao nibs. So if you're looking for one of the best make ahead breakfasts for your busy week, this is definitely a recipe that you need to try now!
Bana
Banana Almond Butter Chia Pudding
2017-03-13 11:03:44
Serves 2
Ingredients
1 large banana (fairly ripe)
1 cup almond milk
¼ cup almond butter
1 teaspoon vanilla (omit for whole30)
1 teaspoon cinnamon
3 tablespoons chia seeds
1 tablespoon cacao nibs
Instructions
Place the banana, almond milk, almond butter, vanilla and cinnamon in a food processor (or blender if you don't have a food processor) and combine for about 30 seconds until well blended.
Stir in the chia seeds and cacao nibs with a spatula.
Pour into two medium sides mason jars and close.
Refrigerate overnight.
Serve topped with banana, almond butter, and cacao nibs.
The Sisters Kitchen http://www.thesisterskitchen.com/