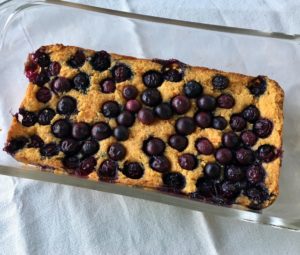 ~Amanda~
If you've ever searched for a Whole 30 breakfast idea on Pinterest you most likely have seen a variation of these bars show up in your results – that's how I first came across this recipe from Physical Kitcheness when I was doing my second round of the Whole 30 and I was instantly hooked. It was awesome to find a delicious (gluten-free, grain-free, paleo, clean eating) breakfast recipe that didn't have eggs or meat as the base and it was even a little bit sweet – thank you blueberries for all that natural sweetness and ahh-mazing flavor! The recipe does call for a tablespoon of honey which is not Whole 30 compliant, so just omit that if you are actually doing the Whole 30 – I promise you won't really even notice it's not there when all those blueberries are bursting with flavor in your mouth.
Even when I'm not actually doing the Whole 30, I find myself making these bars time and time again. They are great for a clean eating, healthy meal and they are really so delicious and satisfy the sweet breakfast cravings I sometimes get. They're especially great for when you're on the go or want something quick and easy to heat up for breakfast at the office. They are the perfect make ahead meal because once they're done, you can cut them up into bars, wrap them up and have them ready to go in the fridge when you take off in the morning #mealprep. I actually find myself having a smaller sized bar for a little snack in the afternoon sometimes too because, like I said before, they really help hit the spot when you're craving something sweet but are not eating added sugars.
So how do you make these awesome bars? We'll start with the sweet potato base; I highly recommend using real sweet potatoes for the base, don't get the canned ones – roast the sweet potato in the oven then mash it up, or puree it in a food processor. You then combine the potato with vanilla, coconut oil, honey (if you're not doing the Whole 30) and an egg. Then add in almond meal, coconut flour and baking powder and stir to combine. Your mixture will be pretty thick – this is how it should be, so don't be concerned. Press the dough into a loaf pan so it is even on top and then sprinkle the blueberries on top and press down so they are set into the dough. Now it's time to bake! When it comes out of the oven, the blueberries will be bursting open with flavor and deliciousness. Let the pan cool almost all the way before removing (or it might get pretty crumbly) and then cut up those delicious bars and enjoy!
Blueberry Sweet Potato Breakfast Bars
2018-01-07 18:11:28
Serves 4
Ingredients
¾ cup mashed sweet potato*
1 tablespoon vanilla extract
1 tablespoon coconut oil, melted
1 tablespoon raw honey - omit for whole30
1 egg
½ cup almond meal
⅛ cup coconut flour
¾ teaspoon baking powder
½ cup blueberries
Instructions
Preheat oven to 350 degrees and grease a 9x5 inch loaf pan.
Combine the mashed sweet potato, vanilla extract, coconut oil, honey and egg in a medium bowl.
Add the almond meal, coconut flour, and baking powder and stir until combined. The 'batter' will be very thick.
Pour the batter in the loaf pan and use a rubber scraper to push into all the corners and middle of the pan and smooth the top.
Pour the blueberries in a single layer on top of the batter and gently press them into the batter.
Bake for 35-40 minutes until set. Let cool then cut into bars.
Keep refrigerated, but is best served when slightly warmed in the microwave.
Notes
*To make mashed sweet potatoes; peel and cube a large sweet potato in ½" cubes. Toss with 1 tablespoon olive oil and bake at 400 degrees for about 30 minutes until soft. Remove and let cool for about 10 minutes then puree in a food processor until smooth.
The Sisters Kitchen http://www.thesisterskitchen.com/