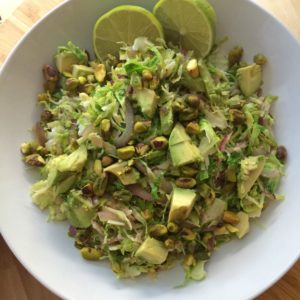 ~Amanda~
If you asked me ten years ago if I would ever serve Brussels Sprouts in my house, the answer would have been a definite no, as I'm sure it would have been for most people. However, in the last few years the vegetable that we always thought of as being absolutely disgusting has somehow become one of the most popular and favorite vegetables by many – including this girl, I am pretty much obsessed with them now. Once I realized that roasting Brussels Sprouts in the oven with some good seasonings and oil until they are caramelized and crunchy could make them taste heavenly, I started researching other recipes to use them in. This salad that I have adapted from DietHood quickly became one of my favorites.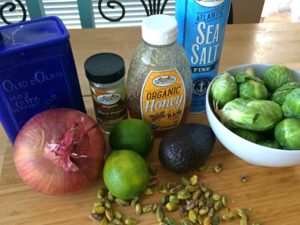 I always love a delicious salad to serve when I'm grilling out in the summer. Nothing goes better with some hot grilled brats or chicken or burgers (anything really!) than a nice cool salad. This Brussels Sprout Salad with Lime, Avocado and Pistachios is absolutely perfect because it goes with just about anything and it's a play on your traditional coleslaw but way healthier and way tastier! When you shave down the Brussels sprouts, they look just like any coleslaw and they hold up to so many added flavors. One of the reasons I really love this recipe is because it's so simple with a short ingredient list and it can be made in minutes on any busy evening – I send Conor out to the grill to cook the meat while I quickly throw this together and we're always done at the same time and ready to eat!
So what's in this magnificent salad?! Brussels sprouts (of course) that are shaved super thin then combined with some sauteed red onion and cooked for a few minutes so they are just slightly softened and warmed through. For a hint of sweetness, I add a touch of honey and to complement that I love some fresh and tangy lime zest and juice – the zest is key, it adds so much flavor. Finally you get some good crunch from chopped pistachios and just a little creaminess from avocado chunks. And that's it! What's not to love about this!? You can make a half recipe for a dinner for two or make a double for a big BBQ with friends, everyone will be sure to love it. Enjoy!
Brussels Sprout Salad with Lime, Avocado and Pistachios
2017-05-21 10:18:10
Serves 4
Ingredients
3 tablespoons olive oil
1 pound brussels sprouts, trimmed
1 medium red onion, thinly sliced
salt and pepper, to taste
1 teaspoon honey
1/2 cup pistachios, chopped
1 lime, zested and juiced
1 avocado, cubed
Instructions
3 tablespoons olive oil
1 pound brussels sprouts, trimmed
1 medium red onion, thinly sliced
salt and pepper, to taste
1 teaspoon honey
1/2 cup pistachios, chopped
1 lime, zested and juiced
1 avocado, cubed
The Sisters Kitchen http://www.thesisterskitchen.com/