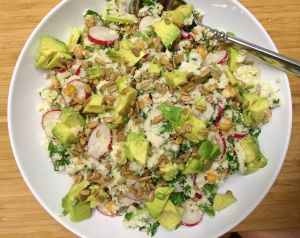 ~Amanda~
I feel like 2014 was the year of the superfoods; pretty much every week we were introduced to a new superfood that would supposedly change our lives and that we must be eating NOW. Although I find it a little ridiculous that all these foods that have been around forever are now just getting new reputations as amazing superfoods, I will admit I still have jumped on several of these superfood bandwagons. This recipe focuses on one of my favorite superfoods and most recent obsessions, cauliflower. Cauliflower is filled with sulforaphane (which helps fight cancer and boosts heart health), it's rich in vitamins, minerals, and fiber, as well as antioxidants. Why wouldn't you eat it, especially when it tastes so good in recipes like this one?!
Growing up, we only ate cauliflower steamed as a side dish or as part of vegetable casserole, and I was never a huge fan of it. It always tasted very 'blah' to me. However, I have learned new ways of preparing it over the years and have a new found love for it and the flavors you can bring out of it. This recipe is for a super healthy and delicious cauliflower salad that I originally found on The First Mess while searching for ideas for lunches to have at work during the week. To prepare the cauliflower, you use a food processor to pulse it and end up with something that looks like rice, rather than cauliflower. Cauliflower rice! I never would've thought of doing that a few years ago, but now I see it all over the internet when looking at cauliflower recipes.
The cauliflower rice is then combined with many different flavors and textures to create the most appetizing and palatable salad. You get crisp and refreshing flavors from the radishes and apples, a nice warmth and crunch from roasted garbanzo beans, a hint of zestiness from the lime based dressing, and a light and fresh hit from the array of herbs ranging from chives to green onion and mint. The flavor profile is complex, but pleasing to the taste buds and helps satisfy all of your texture cravings while also getting the delicious cauliflower superfood hit for the day!
My favorite use for this salad is as a side dish to veggie burgers for my lunch at work on weekdays, as it keeps great in the fridge throughout the week (just wait to add the avocado when you're ready to eat). However, there are so many other uses for it; it makes a great snack or appetizer when served with crackers and hummus, you can serve it as a side dish to grilled chicken or fish, or even roll it up in lettuce or radicchio leaves. Whatever way you choose to eat it, I am sure you will love it.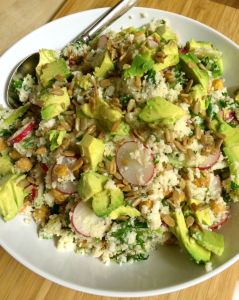 Cauliflower and Roasted Garbanzo Bean Salad
2014-12-23 13:09:01
Ingredients
1 can garbanzo beans, towel dried
2 limes, zested and juiced
Olive oil
Chili powder
Salt and pepper
1 head of cauliflower
1 tablespoon dijon mustard
1 tablespoon maple syrup (or agave nectar)
5 radishes, thinly sliced
1 crisp apple, thinly sliced
1 cup flat leaf parsley, chopped
3 sprigs mint, chopped
2 green onions, finely sliced
1/4 cup chives, chopped
1 avocado, cubed
1/3 cup sunflower seeds
Instructions
Preheat oven to 400 degrees. Coat a baking sheet with foil and mix the garbanzo beans with lime zest, chili powder, salt, pepper, and a tablespoon of olive oil on the baking sheet. Roast for about 20 minutes until crisp and golden.
Use a food processor to 'rice' the cauliflower; place a few handfuls of cauliflower flourets into the bowl of the food processor and pulse until they have formed small rice looking pieces. Pour into a large bowl and repeat for remainder of the cauliflower.
In a small bowl, whisk the remaining lime zest, lime juice, salt, pepper, mustard, maple syrup, and 3-4 tablespoons of olive oil. Pour over the riced cauliflower and toss to coat.
To the bowl of riced cauliflower, add the radishes, parsley, mint, scallions, chives, apple, and roasted chickpeas. Toss gently to combine. Top with the dived avocado, sunflower seeds, and salt and pepper to taste. Serve immediately keep in the fridge in an airtight container.
Notes
Serving Suggestions: On it's own in a bowl, rolled up in radicchio leaves, on crackers with hummus, or any other way you can think of!
The Sisters Kitchen http://www.thesisterskitchen.com/