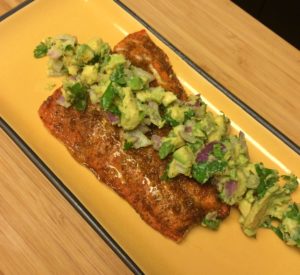 ~Amanda~
It's already the end of January and I've only posted one recipe so far this year… I am not proud of that fact, BUT I have very good reason; I've been doing the Whole30 and have spent so much time meal planning, cooking, prepping, and trying out new recipes that I haven't had much free time to actually blog anything new! I am on my final week and feeling so great – if you haven't heard of, or done, the Whole30 I would definitely recommend it. Check out the official website HERE for more info about it, but it's basically 30 days of eating clean and fueling your body with only good foods and not all that bad processed crap we're all guilty of eating too much of. Yes, it's hard, but if you put in the time to make good food and give yourself a good variety of foods, it's not awful.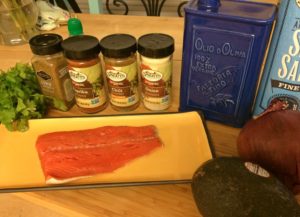 I have come across some great recipes over the past twenty something days, and this is one of my favorites so far. For one, it is so simple to make and only takes about 5-10 minutes of prep time and just short bit after that to cook. However, I really just loved this dish because it was so fresh, flavorful, light, and the amazing flavors reminded me of summer (which I have been missing quite desperately lately)! Let's talk more about the awesome flavors though. The salmon is marinated in olive oil and a mixture of spices like chili, paprika, cumin, and onion powder. The warm and somewhat spicy flavors all go together so well and they complement the salmon so perfectly… not too strong to overpower it, but strong enough to fill your mouth with awesome flavor.
To offset those warm and spicy flavors in the salmon, you top it with a cool and refreshing Mango Avocado Salsa! I honestly don't think there is much better in this world than mango and avocado combined together – you will find Jackie and I making all our guacamole with mangos almost every time, it's just so much better with that added sweetness! For this salsa, you add a little lime for some tanginess, some cilantro for more freshness, and a little red onion for some bite and you have the perfect complement to your salmon. Once the salmon has been grilled or baked (I definitely recommend grilling, but I had to bake mine this time because our grill is currently out of commission and it was still amazing) you top it with the salsa and enjoy… it's a perfect healthy and flavorful meal to make whether you're on the Whole30 or not!
Chili Paprika Salmon with Mango Avocado Salsa
2017-01-30 12:28:06
Serves 2
Ingredients
2 salmon filets (about 1 pound)
1 tablespoon extra virgin olive oil
½ teaspoon chili powder
½ teaspoon smoked paprika
½ teaspoon ground cumin
½ teaspoon onion powder
½ teaspoon salt
¼ teaspoon black pepper
1 avocado, diced
¼ red onion, diced
1 mango, diced
1 lime, juiced
1 tablespoon cilantro, minced
Salt and pepper, to taste
Instructions
In a small bowl, combine the chili powder, paprika, cumin, onion powder, salt and pepper.
Drizzle the salmon filets with olive oil then sprinkle on the spice blend and rub into the filets.
Cover and refrigerate for 30 minutes up to an hour to marinate.
While the salmon is chilling, combine the avocado, onion, mango, lime juice, cilantro, salt and pepper in a separate bowl. Set aside.
Once the salmon has finished marinating, you have the option to cook it on the grill or in the oven. For the grill, preheat your grill and cook (skin side down) for about 5-6 minutes until just cooked through. For the oven, turn the oven to broil and place the salmon in a baking dish lined with foil. Bake for 5-6 minutes until cooked through.
Place the cooked salmon on your plates and top with the Mango Avocado Salsa.
Enjoy!
The Sisters Kitchen http://www.thesisterskitchen.com/