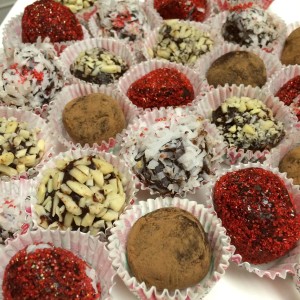 ~Amanda~
Valentines Day is almost here and it's probably one of my all-time favorite holidays; not because of all the romance, presents, or fancy dates, but because of all the CHOCOLATE! I will gladly admit that I am probably the biggest chocaholic that I know (I eat chocolate every single day… I'm not exaggerating, I really do) and when Valentines Day comes around, there is an abundance of chocolate everywhere you look. It's like heaven to me! So naturally, I felt the need to make something very chocolate-y this week in honor of Valentines Day, and when I think of chocolate, truffles are one of the first things that come to mind.
Chocolate truffles are so rich, decadent, and indulgent and they satisfy even the biggest of chocolate cravings. If you think making homemade truffles is hard work, it's not! This truffle recipe is so great because it's quick, simple, and done in the microwave. And you just need a few ingredients; chocolate chips, cream, butter, and almond extract. Don't skip out on the almond extract, I know it's not much, but it adds a subtle almond note to the chocolates that make them just that much more special. I also prefer to use a combination of dark chocolate and semi-sweet chocolate chips when I make these because I love the rich flavor of dark chocolate, but use whichever kind you like best, you really can't go wrong!
Once you make the truffle mixture, you refrigerate it until it becomes firm enough to work with. You then form the balls, which I will tell you now is very messy so don't get discouraged (it does help to put the bowl back into the refrigerator off and on to make the chocolate easier to work with). And then come the toppings; there are so many options from ground nuts, to cocoa powder, to shredded coconut (my favorite), or some festive holiday sprinkles. They all taste excellent and I would strongly recommend doing a few of each so you get to try them all, and the presentation looks really great when you have a variety of flavors. When you're not eating all your delicious truffles, make sure you store them in an airtight container in your fridge (or freezer), or they'll melt all over the place, not so much fun to clean up! So when your chocolate craving hits, be sure to make some of these delicious Chocolate Truffles for yourself or someone you love!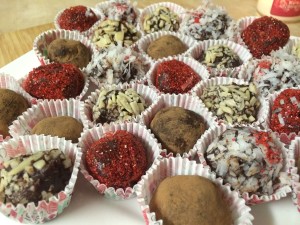 Chocolate Truffles
2015-02-11 14:31:14
Truffles
2/3 cup heavy cream
2 tablespoons butter
1/2 teaspoon almond extract
12 ounces semi sweet chocolate chips (or a mixture of dark chocolate and semi sweet)
Toppings
almonds, toasted and chopped
shredded sweetened coconut
cocoa powder
sprinkles
Instructions
Place cream, butter, and almond extract in a microwave safe bowl and microwave on medium power for about 3 minutes.
Add chocolate chips, let stand 1 minute, then stir well until blended.
Refrigerate 1 hour until firm enough to scoop.
Form mixture into about 1 inch balls and place on baking sheet lined with parchment paper.
Roll balls in toppings of your choice then refrigerate until serving.
The Sisters Kitchen http://www.thesisterskitchen.com/