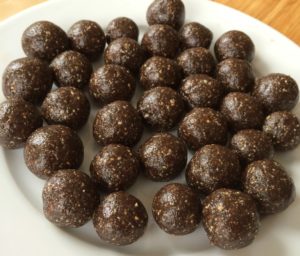 ~Amanda~
Working out is a huge part of my life – every weekday I wake up early and hit the gym before work. I do this for many reasons; the most important is obviously to be healthy and take care of myself and keep my heart and body feeling good. Another big one is because I LOVE TO EAT! I cook healthy and I eat well, but I really enjoy my food and my sweets so I exercise so I don't have to watch what I eat a much and I can enjoy my food. I always have half a banana before I head out the door to give me a boost of energy for my workout (bananas are filled with digestible carbohydrates (fuel) and are packed with potassium to help keep nutrient levels high. But just as important is my post-workout food – PROTEIN BALLS! I make a batch of these every Sunday afternoon and keep them stored in the fridge during the week so I have a delicious and healthy snack ready for me everyday, no effort.
It is so important to give your body some food for recovery after your workout to help your muscles and body heal and boost your energy. I am obsessed with energy balls and over the last few years I have many so many different recipes and have taken my favorite bits of each recipe to make these ones that are absolutely perfect for me. The base of these balls are dates. Dates have quickly become one of my favorite foods – I always have them in the house and will have one as a healthy little snack to hold me over until meal time. They're just sweet enough to satisfy my sweet tooth, but so good for you that there is no guilt. Dates contain so many important vitamins and minerals, they are high in antioxidants, fiber and iron, and they are rated low-medium on the Glycemic Index. I could go on and on about the benefits they have, but just trust me – they're so good for you and great to eat post-workout.
In addition to the dates, I add cashews, flaxseed, protein powder, cocoa powder, and coconut oil. I add flaxseed to anything I can (pancakes, oats, etc) so it was natural that I would put it in these energy balls. As far as protein powder goes, I have found that plant based protein powder works best for me. I find that it's so much easier on your digestive system and I have become obsessed with Vega brand. The cocoa powder was a very obvious addition because I loooooove chocolate! PLUS did you know that it's so good for you (as long as you use 100% raw, unsweetened) and it can improve your health and lower the risk of heart disease. And finally coconut oil is key in these energy bites. It helps hold them together and I love adding a little more than usual recipes would call for and when they are refrigerated it firms up and gives them a nice bite, so they're not as chewy and fall apart-y as some other ones I have tried are. So now that I've gone on and on about these ingredients and how great they are for you, you need to actually make these and you'll see that they also taste AMAZING too! ENJOY!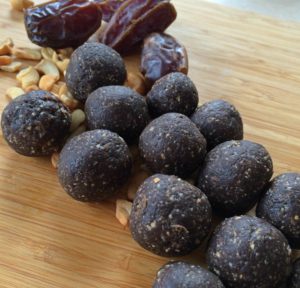 Protein Cocoa Energy Balls
2017-03-13 11:05:52
Ingredients
½ cup cashews (unsalted)
10 large dates
2 tablespoons ground flaxseed
2 tablespoons chocolate protein powder (I use Vega plant based protein powder)
1 tablespoon 100% dark raw cocoa powder
2 tablespoons coconut oil
1 tablespoon water
Instructions
Place the cashews in a food processor and pulse until finely ground.
Add the dates, flax seed, protein powder, cocoa powder, coconut oil, and water to the food processor and combine for about 30 seconds until everything is very well blended (if the mixture is too thin, add some more cashews to thicken it up, if the mixture is too thick, add in a little more water to thin it out – you want it to be thick enough to hold its shape when formed into balls).
Form the mixture into one inch balls in your hands and place on a plate
Refrigerate for 1 hour before eating or store in an airtight container in the fridge for up to a week.
The Sisters Kitchen http://www.thesisterskitchen.com/