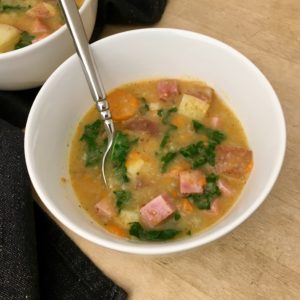 ~Amanda~
There is nothing quite like a nice warm pot of soup simmering away on the stove on a cold winter day… especially when that pot is filled with the most delicious Ham and Potato Soup! The combination of the fresh vegetables (onion, celery, carrots, garlic and leeks), creamy pureed potatoes and savory ham is amazing and it's the perfect meal to warm you up, fill you up and make you feel nice and healthy. Yes, HEALTHY – it's whole 30 approved and a perfect clean eating meal to kick off the new year with! This soup has been a favorite of mine since I discovered it on The Real Food Dietitians site while doing my January Whole30 last year and I have made it so many times since then – it never disappoints.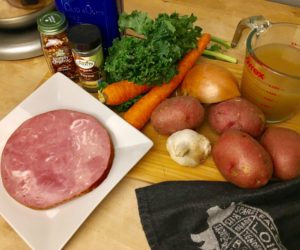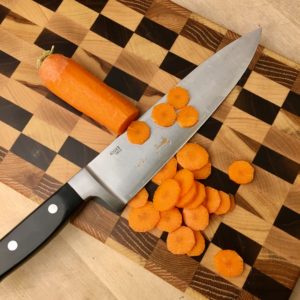 Jaclyn's husband MADE this incredible cutting board for us for Christmas this year!! I'm obsessed with it!!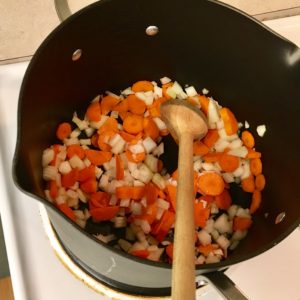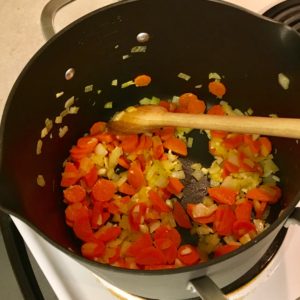 I think one of the biggest misconceptions about clean eating or paleo diets is that there are only so many options and the food gets boring. I made it my mission to make a different dinner recipe every night of my Whole30 and this is one that I loved so much that I ended up breaking my rule because I just had to make it twice… it's that good! This time making it was the absolute best because I finally got to use my immersion blender that we got as a wedding gift, I have wanted one for years and I felt pretty fancy finally getting to use one! Plus, the smooth and creamy texture was divine. The kitchen gadgets are great, but what really matters is the ingredients you buy to make sure you keep this recipe 'clean'; buy organic produce to avoid pesticides and make sure your broth and ham are compliant – no added sugars, no weird ingredients, just natural and organic ingredients and you should be in the clear.
Making this soup is super simple so it's a perfect for a quick and easy weeknight meal when you don't want to spend a lot of time prepping; chopping up the veggies and sauteing doesn't take too much time and then you get to go relax while it all cooks together on the stove. Another great thing about this soup – as if you needed anymore – is that it keeps so well. You can make a big batch and it will last you such a long time whether you want to bring it for lunches during the work week or if you want to freeze a bunch of it to save for another week. This is a great thing to bring with you if you're actually doing the whole 30 and are going to a dinner where you need to bring your own meal – I did that more than a few times! So now that I've talked it up so much, go try it out and I hope you love it as much as I do!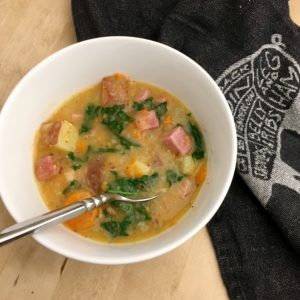 Creamy Ham and Potato Soup
2017-12-29 17:43:05
Serves 6
Ingredients
1 tablespoon olive oil
½ medium yellow onion, diced
2 stalks celery, thinly sliced
2 medium carrots, thinly sliced
1 large leek (white and light green parts), thinly sliced
6 cloves garlic, minced
3 cups red potatoes with skin, ½ inch dice
4 cups organic chicken broth
1 teaspoon dried thyme
8 ounces cooked ham, ¼-inch dice
2 cups kale, tightly packed, torn into small pieces
½ teaspoon sea salt
¼ teaspoon black pepper
Red pepper flakes, optional
Instructions
Heat the olive oil in a Dutch oven or other large pot with a lid over medium heat.
Add onion, carrot, celery and leeks. Saute for about 7 minutes, until onions start to soften.
Add garlic and cook an additional 30 seconds.
Add potatoes, broth and thyme. Bring to a boil then reduce heat, cover and simmer until potatoes and carrots are tender, about 30 minutes.
When vegetables are tender, insert an immersion blender into the soup on one side of the pot and process until creamy (alternatively removed ½ the soup and puree in a blender).
Stir to mix the part you just pureed into the other half of the soup.
Add diced ham and kale continue to heat until ham is warm and kale is wilted, about 10 more minutes.
Season with salt and pepper as desired. Serve.
Notes
Store in an airtight container in the refrigerator for up to 5 days or freeze for several months.
The Sisters Kitchen http://www.thesisterskitchen.com/