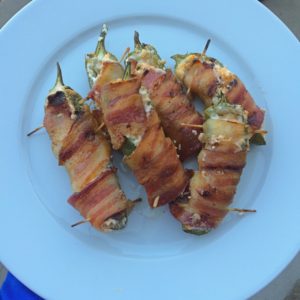 ~Amanda~
I had completely forgotten how much I love jalapeno poppers until we went to the Frisco BBQ Challenge the other weekend… there was so much amazing BBQ to try and we were going from stall to stall trying ribs and pork and tacos (yes, the tacos were so amazing that I had to recreate them, see my recipe for Pulled Pork and Veggie Tacos with Mango Slaw Here!). While walking down the street we saw a stand selling Jalapeno Poppers and the line was quite short so Conor ran over and bought a few just as a little snack between stalls, I wasn't expecting much but I had one bite and they instantly became one of my favorite things of the day!
Jalapeno Poppers kind of have it all when it comes to flavor; the jalapenos have just the right amount of spice – I love spicy food, but too spicy and I turn all red and start coughing so I really appreciate the spice of jalapenos because it's not overwhelming. To offset that spice, they are filled with cool, creamy cream cheese. For my recipe I mix in some cheddar cheese with the cream cheese to add a little variety of flavor and a little gooey-ness, that's a word right? And finally, probably the best part of these jalapeno poppers, they're wrapped in bacon! I mean we were at BBQ festival, so they had to be wrapped in bacon of course. The savory crispy bacon wrapped around the spicy pepper and creamy cheese is pretty much heavenly.
Jalapeno poppers are such a great appetizer, or side, for any party or meal because they are super easy to make and quite affordable – the ingredients to make these ten poppers cost less than ten dollars and the prep took about ten minutes. It takes about 20 minutes to grill them, but that doesn't count because you can just sit outside with a nice cold drink and some good company while you have them on the grill… plus the smell of that bacon grilling will get your mouths watering and you'll be so ready to eat them the second they come off the grill! With the 4th of July right around the corner, these are the perfect recipe to make for your celebration and everyone is sure to enjoy them… happy grilling!
Grilled Bacon Jalapeno Poppers
2017-06-24 08:50:28
Ingredients
5 jalapeno peppers
4 ounces cream cheese, room temperature
2-3 tablespoons cheddar cheese, shredded
10 slices bacon
Toothpicks
Instructions
Preheat grill to high heat (alternatively heat your oven to 400 degrees).
In a small bowl, combine the cream cheese and cheddar cheese.
Cut each jalapeno and cut in half lengthwise then use a spoon to scrape out the seeds and membranes.
Stuff the cheese mixture into each of the jalapeno halves.
Wrap each jalapeno completely with bacon ensuring the cheese is covered (I do some with a full strip of bacon and some with half). Secure with toothpicks.
Place jalapenos on grill cut side down and grill just until bacon begins to crisp, about 6 minutes. Flip jalapenos over and reduce heat to medium-low and cook an additional 10-12 minutes until bacon is cooked and cheese is melted.
If cooking in the oven cook for about 20 minutes until bacon is crispy and cooked through.
Remove toothpicks and enjoy!
The Sisters Kitchen http://www.thesisterskitchen.com/