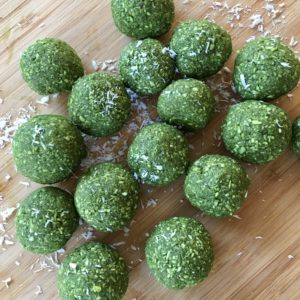 ~Amanda~
If you haven't jumped on the matcha bandwagon yet, you are totally missing out because it just might be one of the best ingredients ever! Matcha is considered to be an antioxidant powerhouse and it is so so good for you. Did you know that one serving of matcha has 137 times more antioxidants than regularly brewed green tea? And that it boosts metabolism, burns calories, detoxifies and helps calm the mind and relax the body? There's so much to love about it, but do be aware that it does have a very strong flavor that can sometimes take a while to get used to if you're not a regular tea drinker, so be warned the first time you try it!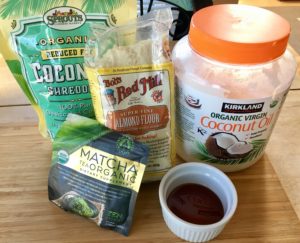 In this world, there are tea drinkers and there are coffee drinkers and I have always been a tea drinker. I do like coffee, but will almost always choose tea first. So naturally, as I discovered matcha and learned more about it over the last few years, I became completely obsessed with it and love looking for new ways to incorporate it into my diet. I started off pretty simple by adding it to my smoothies or my Matcha Overnight Oats – it's a great morning boost of energy! Then over Christmas this year I got a little crazy and added it to my crispy treats, which was definitely not the healthiest recipe, but they were so incredible and we could not get enough of them. This year I was in search of something new to go along with our clean eating resolution and loved this recipe from Living Well Mom. I make energy balls all the time as they are the best little snack to have before or after my morning workouts to get me going for the day or even mid-afternoon for a little boost to get through the workday, so I knew a matcha energy ball was going to be incredible.
These energy balls only have five ingredients and take less than 10 minutes to make so they're perfect to make on a Sunday afternoon to get ready for the week ahead. To make sure these are actually good for you and fit in with a clean eating diet, you should be buying organic, clean ingredients that don't have any added sugar or anything unnatural in them; your syrup should be organic and natural, your coconut needs to be unsweetened and the coconut oil should have no extra additives. Place all ingredients in a food processor and combine and the roll them up into balls (whatever size you prefer). If they are a little crumbly you can add more maple syrup or coconut oil to help them hold together a little better. Store in the refrigerator until you're ready to enjoy – happy new year and enjoy this awesome – and clean – boost of energy!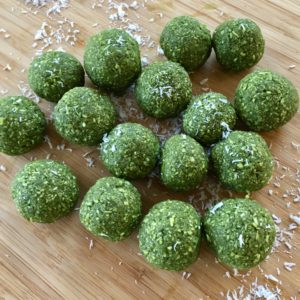 Matcha Energy Balls
2018-01-07 17:08:20
Ingredients
1 cup shredded coconut, unsweetened
4 tablespoons almond flour
2 tablespoons maple syrup
1 tablespoon coconut oil
1 tablespoon matcha powder
Instructions
Place all ingredients in a food process and pulse until completely combined.
Roll into 1 inch balls.
Store in the refrigerator.
The Sisters Kitchen http://www.thesisterskitchen.com/