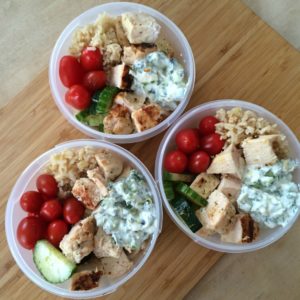 ~Amanda~
The weather has been un-seasonally warm here the last few weeks and it has me thinking about this upcoming summer with days by the pool, my bachelorette party in Mexico… and of course my wedding in August! All of this is keeping me motivated to eat healthy and (hopefully) have that summer-bod in time for everything. One of the most important things you can do to eat healthy is to plan and prepare meals ahead of time. For me, this is especially important when it comes to breakfast and lunches for work and I have been trying out new, delicious recipes weekly. This one for Greek Chicken Lunch Bowls came from Eazy Peazy Mealz and is one of my new favorites! It takes a little effort to prepare on the weekend (and I do mean just a little, these are super easy to make), but is totally worth it when you have an awesome homemade lunch during at work that's loaded with yummy Greek flavors and is healthy too.
The first, and probably most important, part is to make the Greek chicken. You make the marinade by combining olive oil, garlic, lemon juice, red wine vinegar, oregano, and creamy Greek yogurt together (I have actually never used Greek yogurt in a marinade before, but it is awesome and gives some extra moisture to the chicken and a nice bite of flavor). Then you add in the chicken breasts and marinade for 20 minutes (if you're in a time crunch) but you can also do this a day before and let it marinade in the fridge overnight to get even more flavor infused in the chicken. Then you sear it in a pan on the stove and finish it off cooking in the oven to keep it nice and juicy. YUM! Once it's done cooking, you want to let it cool completely so that all the juices get soaked back in and it remains tender and delicious, then you can cut it into smaller bite-size cubes.
The other components of the bowls are just as important as the chicken as they all add a different texture and flavor that makes the bowls complete. There's a cucumber salad that adds a nice cool and citrusy bite, the tzatziki sauce is creamy and loaded with traditional Greek flavors like dill and mint and perfectly complements the chicken. Cherry tomatoes add a great pop of flavor. And finally some brown rice acts as the base to bring everything together – with some added nutrition as well! Once you have all the components prepared, you can create the bowls by layering in everything. These can be stored in airtight containers in the refrigerator for up to 5 days. One recipe makes about 2-4 servings, but double it if you want meals for the whole week! Enjoy!
Greek Chicken Lunch Bowls
2017-03-20 18:14:58
Serves 3
For the Chicken
1 pound boneless, skinless chicken breast
⅛ cup olive oil
1 tablespoon garlic, minced
¼ cup fresh lemon juice
½ tablespoon red wine vinegar
½ tablespoon dried oregano
¼ cup plain Greek yogurt (I use fage 0%)
Salt and pepper, to taste
For the Cucumber Salad
½ large cucumber, peeled and sliced
2 tablespoons lemon juice
1 tablespoon olive oil
½ tablespoon red wine vinegar
½ teaspoon dried oregano
For the Tzatziki Sauce
½ plain Greek yogurt (I use fage 0%)
¼ large cucumber, finely diced
½ tablespoon garlic, minced
1 tablespoon fresh dill, finely chopped
1 large lemon, zested and juiced
1 teaspoon fresh mint, finely chopped
Salt and pepper, to taste
For the bowls
1½ cups cooked brown rice
1 cup cherry tomatoes
½ red onion, sliced (optional)
Instructions
In a large bowl, combine the olive oil, garlic, lemon juice, red wine vinegar, oregano, Greek yogurt and salt and pepper. Add the chicken and toss until coated with marinade. Cover and refrigerate for 20 minutes up to overnight.
Preheat the oven to 425 degrees then heat a large skillet over medium-high heat and add the chicken. Cook for about 4-5 minutes per side until slightly browned then transfer to a pan and bake in the oven for 15 minutes until cooked through and the juices run clear. Remove and let cool.
Once the chicken has cooled, cut into one inch bite size cubes. .
While the chicken is cooking, prepare the cucumber salad by combining the cucumbers with all the other ingredients. Set aside.
Then make the tzatziki sauce by combining all the ingredients. Set aside.
Prepare the bowls by first dividing the cooked brown rice between 2-3 containers. Add the cherry tomatoes and red onion then top with chicken, cucumber salad, and tzatziki sauce.
Cover and refrigerate for a maximum of 5 days. Enjoy cool right out of the fridge.
The Sisters Kitchen http://www.thesisterskitchen.com/