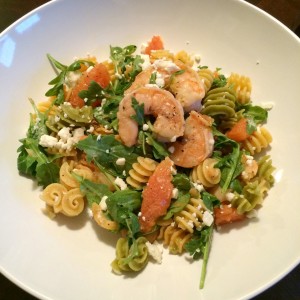 ~Amanda~
One of my favorite chefs of all time is Giada De Laurentiis. For as long as I can remember, I have been watching her on the food network and she has taught me so much about ingredients and cooking. Some of my first cookbooks were hers and I have made dozens and dozens of her recipes over the years, and absolutely love them all. She combines so many great flavors and unique ideas into her dishes which are not only delicious, but a lot of them are quite healthy as well. One of my all-time favorite recipes from Giada is this Pasta with Shrimp, Orange, and Arugula. I made it for the first time over 5 years ago and it has been a staple on my spring and summer dinner menus ever since. I find the combination of ingredients so unique; I would never have thought to combine shrimp, oranges, and arugula with PASTA …but she did and it's amazing!
This is the perfect spring or summer dish; the flavors are incredibly bright, light, and vibrant and they combine together to make the most delicious meal that will leave you so satisfied (but not stuffed) on a nice warm evening. The preparation of this dish is simple as you only have to make a few different components and then combine them all together. The first component of the dish is the pasta. Giada's recipe calls for a fusilli pasta, but I like to substitute these Ancient Harvest Garden Pagodas. They're gluten free and have the best shape and texture to soak up all the wonderful sauce and flavors of the dish. Even if you're not gluten free, I would highly recommend this pasta; it's made out of quinoa so it's actually quite healthy and the texture is just like normal pasta, not like some of the weird gluten free ones out there. It's so good that even Conor loves it and thinks it tastes just as good as regular pasta too!
While the pasta is cooking you can make all the other components; first is the vinaigrette, which is SO easy. All you have to do is combine the lemon zest, lemon juice, olive oil, salt, and pepper together and whisk! Then set aside. The next step is to make the 'salad' portion of the dish. You begin by segmenting the orange into a large bowl. In order to do this, you want to use a very sharp paring knife to cut out the orange segments between the pith (the white parts). We do this because the pith of the orange can be somewhat bitter and we just want the good orange pieces and flavor in the dish. Also, make sure you're doing this over a bowl so that all the juice falls in there too for extra citrus flavor. Add the arugula, mix, and set aside. Finally, cook the shallots, garlic, and shrimp with olive oil and white wine until shrimp are pink and cooked through; this will only take a few minutes. Then mix all the different components with the pasta together in a large bowl, plate it, and top with some delicious feta cheese. It tastes even better when eaten outside on a warm evening served with some crisp white wine…YUM!
Pasta with Shrimp, Orange, and Arugula
2015-04-20 10:44:49
Serves 4
Pasta
1 pound pasta (fusilli or something similar; I use Ancient Harvest Quinoa - GF Garden Pagodas)
Vinaigrette
1 teaspoon lemon zest
1/4 cup lemon juice (about 1 lemon)
1/4 cup extra-virgin olive oil
Salt and freshly ground black pepper
Salad
2 large oranges
5 ounces arugula
Shrimp
2 tablespoons extra-virgin olive oil
2 shallots, minced
1 clove garlic, minced
1 pound medium shrimp, shelled and deveined
Salt and freshly ground black pepper, to taste
1/4 teaspoon cayenne
2 tablespoons white wine
1/4 cup feta cheese
Pasta
Cook the pasta according to package instructions. Drain and reserve about 1/2 cup pasta water.
Vinaigrette
While the pasta is cooking; combine the lemon zest and lemon juice in a small bowl. Slowly add the oil, whisking constantly, until mixture is smooth, Season with salt and pepper, to taste. Set aside.
Salad
Using a sharp paring knife, remove the peel and white pith from the oranges. Over a large bowl, cut between the membranes of the oranges to form segments. Drop the segments in the bowl and allow the juice from the oranges to drip into the serving bowl as well. Add the arugula and toss lightly to combine. Set aside.
Shrimp
In a large saute pan, heat the oil over medium-high heat. Add the shallots and garlic. Cook until soft, about 2 minutes. Season the shrimp with salt, pepper, and cayenne. Add the shrimp and white wine to the pan. Saute for 2 to 3 minutes or until the shrimp are pink and cooked through.
Combine it all
Add the hot pasta, shrimp, and the vinaigrette to the serving bowl with the oranges and arugula and toss until arugula is wilted and all the ingredients are combined. Top with feta cheese and enjoy!
The Sisters Kitchen http://www.thesisterskitchen.com/