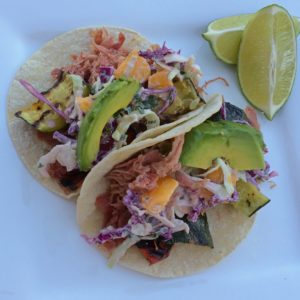 ~Amanda~
Last weekend we were up in Frisco, Colorado for the world famous BBQ Challenge and it was ahhh-mazing! Every year before the BBQ challenge starts up on Saturday afternoon, they have a morning race called the BACON BURNER – it's a 6k along the lake in Frisco and they have delicious, crispy, warm bacon at the halfway point, can you think of a cooler run?! We love this race not only for the bacon, but because if you run a 6k in the morning, you've earned yourself the right to eat all the BBQ you want in the afternoon… we're pretty sure we end up eating way more than we burn off from the run, but who cares when it's the best BBQ ever!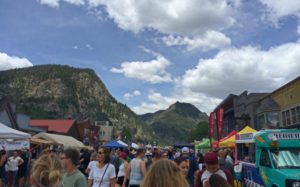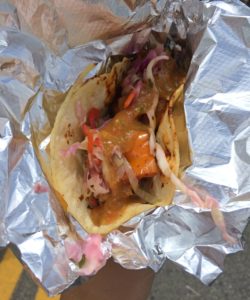 (The Frisco BBQ Challenge, left, and my taco inspiration)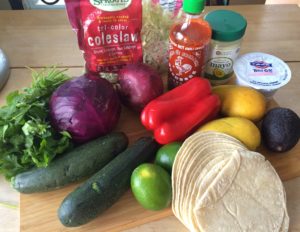 We ate our way through the festival trying anything and everything we could and left at the end of the day with so much inspiration for new recipes and ideas. We had ribs, brisket, pulled pork, jalapeno poppers, Nutella ice cream, and my favorite thing of the day – Pulled Pork Tacos with Grilled Veggies and Mango Salsa! These tacos were seriously to die for… the line was down the street, so you know they have to be good. The pulled pork was so juicy and tender, the veggies were covered in grill marks and so tasty and the mango salsa on top of the cool coleslaw was just the perfect topping.

When I started to think about how to make my own version of these tacos, I obviously had to start with the pulled pork. I have never made pulled pork before and after scouring the internet I know why – it takes forever! I was making these on a weeknight and didn't have time to roast (and check on) the pork for 8 hours in my crockpot, so I did the next best thing, I went to CostCo and bought their frozen pulled pork. I know what you're thinking, pre-made pulled pork? Am I crazy? No, I'm not – this pulled pork from is maybe one of their greatest products. We buy it all the time because it only takes 7 minutes to make and it is the most savory, delicious, tender and juicy pork ever. It makes you wonder why anyone would ever try and make it homemade. BUT if you have the time and want to do it, go for it, I applaud you!
Now that the pork is taken care of, we can think about the rest of the tacos; the veggies are simple – just toss some zucchini, peppers and onions with olive oil, salt and pepper and throw them on the grill. Instead of recreating the mango salsa they had at the BBQ challenge, I decided to make a spicy mango coleslaw that I've made before to go with pulled pork sandwiches. The base is Greek yogurt and lime juice and a little Siracha adds some kick. To assemble the tacos, you top your tortillas (gluten-free corn ones of course) with the pulled pork, a few veggies, some slaw and avocado, cilantro and fresh lime juice to finish it off. If that doesn't sound like one of the best tacos ever, I don't know what does. Enjoy and Happy BBQ Season!
Pulled Pork and Veggie Tacos with Spicy Mango Slaw
2017-06-22 13:43:39
Serves 4
For the Mango Slaw
¼ cup Greek yogurt
2 teaspoons Sriracha
2 limes, juiced
½ teaspoon salt
16-ounce package coleslaw mix
1 cup purple cabbage, thinly sliced
1 cup fresh cilantro, diced
½ red onion, diced
2 mangos, peeled and finely chopped
For the Tacos
Pulled Pork (buy premade - CostCo has the BEST or make your own homemade recipe), warmed
2 medium zucchini
1 large red bell pepper
½ red onion
2-3 tablespoons olive oil
Salt and pepper, to taste
8 corn tortillas
1 avocado, chopped
2 tablespoons fresh cilantro, chopped
1 lime, sliced in wedges
Make the Mango Slaw
In a large bowl, whisk together greek yogurt, Sriracha, lime juice and salt. Set aside.
Add the coleslaw mix, purple cabbage, cilantro, red onion and mango.
When ready to serve, toss coleslaw mix with dressing until evenly coated.
Grill the Veggies
Heat grill to medium-high heat.
Cut each zucchini into about 4 long strips, cut the pepper into 4 sections, and thinly slice the red onion.
Toss the veggies with olive oil and salt and pepper.
Grill veggies for about 4-5 minutes per side until tender.
When the veggies are almost done, throw the tortillas on the grill to warm for about a minute.
Remove from grill and cut in bite sized pieces. Set aside.
Assemble the Tacos
Place the pork at the bottom of each tortilla and top with the veggies and mango slaw.
Garnish with avocado, cilantro and a fresh squeeze of lime juice.
Enjoy!
The Sisters Kitchen http://www.thesisterskitchen.com/