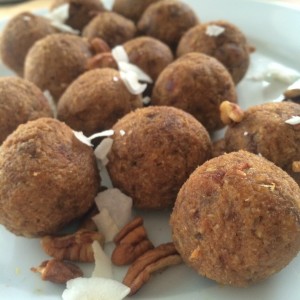 ~Amanda~
Fall is here and it's officially pumpkin and baking season… There's only one small problem with this for me right now, I'm doing the Whole30! The Whole30 is, in short, an eating plan to strip all the bad foods from your diet (all those that are unhealthy, hormone-unbalancing, gut-disrupting, and inflammatory) for a full 30 days. It is a program designed to help your body to heal and recover from the effects that all these foods have on it and really resetting your system. Visit their website HERE to learn more. While on the Whole30, you eliminate any added/processed sugars, dairy, grains, alcohol, etc. I am on day 15 and feeling amazing, but with all these pumpkin desserts and drinks everywhere, I am definitely feeling some cravings and luckily for me, I found the perfect solution to these cravings on Paleo Grubs. They have the most amazing recipe for these Pumpkin Pie Energy Bites and they are my lifesavers!
These little balls of heaven are made with dates, pecans, pumpkin, coconut, cinnamon, nutmeg, and cloves and really like pumpkin pie, I'm not joking, they're so good! They are also completely Whole30 compliant and all the ingredients have such great health benefits, so you don't even have to feel guilty eating them. The base of these bites is dates. Dates are so nutritionally good for you and a great ingredient to use to replenish energy and revitalize your body. They're rich in fiber, which is great for colon health. They are filled with tannins which are antioxidants that have anti-infective and anti-inflammatory properties. And they're great sources of Vitamin A, Iron, and Potassium. The other large component is pecans. Pecans are an excellent source of Vitamin E, they're rich in monounsaturated fatty acids, and a great source of antioxidants. Pecans in the diet can also help decrease LDL (bad cholesterol) and increase HDL (good cholesterol).
One of the best parts of these little energy bites is how simple and quick they are to make; you begin by soaking the dates in some water. While they're soaking, pulse the pecans in a food processor until finely ground and then add in the remaining ingredients, and finally the dates. You then pulse until the mixture is somewhat smooth and can be formed into balls. At this point it's a good idea to refrigerate for about 30 minutes, just so that it's easier to work with and form into the balls. After it has cooled, form the mixture into balls (or press into a pan to make bars) and that's it, you're done! Store them in the refrigerator and grab one anytime you need a little pick-me-up, boost of energy, or are just craving something sweet! You will absolutely love how sweet and delicious they are and how much they really do have that pumpkin pie flavor that will satisfy your biggest pumpkin cravings without any guilt!
Pumpkin Pie Energy Bites
2015-10-12 11:51:05
Serves 20
Ingredients
1 cup Medjool dates, pitted
1/2 cup pecans
1/3 cup pumpkin puree
1/4 cup unsweetened coconut flakes
1 teaspoon cinnamon
1/4 teaspoon nutmeg
1/4 teaspoon ground cloves
Pinch of salt
Instructions
Place the dates into a bowl and cover with water. Let soak for 10 minutes, then drain.
Place the pecans into a food processor and pulse until finely ground. Add in the rest of the ingredients, including the soaked and drained dates. Pulse until combined and the mixture is able to be formed.
Place into the refrigerator to chill for 30 minutes.
Form the dough into small balls using your hands. Or press in a baking sheet to make bars.
Store in the refrigerator in an airtight container.
The Sisters Kitchen http://www.thesisterskitchen.com/