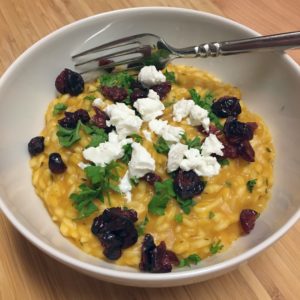 ~Amanda~
Every year summer abruptly comes to an end and boom – fall is here and pumpkin flavored everything is everywhere! It's gotten a little out of control if we're being honest here. I mean I heard they have pumpkin spice twinkies now, like do we really really need that?! I can judge all I want though because I am also a pumpkin nut, I think the craze is out of control, but I buy into it and I will try almost anything I see that's pumpkin flavored and I love almost all of it. This is where my idea for this pumpkin risotto came from; I was making a delicious crockpot dinner this past weekend (try it HERE) and wanted a nice, warm comforting side dish since it was so cold and rainy outside.
Looking through our cupboards, I spotted some giant cans of pumpkin puree (leftover from when my dog was having some serious stomach issues – pumpkin is awesome for dogs if you didn't already know) and a bag of Arborio rice and knew where this was going to go. I got on good ol Pinterest and typed in Pumpkin Risotto to find some more flavor inspiration and instant came across a recipe that included goat cheese and dried cranberries and I knew I had to try this one out – a few small tweaks later, I had a recipe ready to go and I tell you, this could not have turned out any better! The creamy risotto was cooked to perfection in a broth made of chicken stock (you can sub veggie too if you're vegetarian) and pumpkin puree. By adding the pumpkin puree into the broth ahead of time, you are ensuring that all the flavor really gets absorbed into the rice when it's cooking and you get so much of that delicious pumpkin flavor, rather than just adding it at the end.
Adding in some thyme and nutmeg gives you a hint of the fall spice mix we all love. Of course, no risotto is complete without cheese – in this case, two types, because why just have one?! Parmesan cheese is melted in once the rice is just finished cooking and then goat cheese is crumbled over the top. I don't like to melt it in because I feel like you lose some of the flavor doing this. You can taste it so much more when you're getting a crumble in every bite. And finally top it off with some parsley and dried cranberries. These are the BEST thing ever in this dish, I love the sweet and savory flavors together and they perfectly complement the pumpkin. This is the perfect dish to make at home on a cold night, but it's also elegant enough that you can serve it at Thanksgiving dinner…either way, you are sure to love it!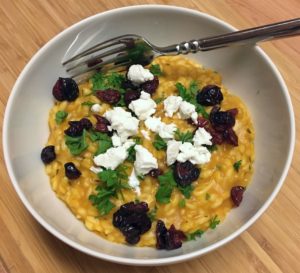 Pumpkin Risotto with Cranberries and Goat Cheese
2017-09-28 12:32:56
Serves 6
Ingredients
4 cups chicken stock (sub veggie)
1 cup pumpkin puree
2 tablespoons extra virgin olive oil
1 shallot, minced
1 teaspoon salt
½ teaspoon dried thyme
1½ cups Arborio rice
⅓ cup Parmesan cheese, grated
¼ cup fresh parsley, chopped
¼ teaspoon nutmeg
Black pepper
½ cup goat cheese, crumbled
½ cup dried cranberries
Instructions
Place the chicken stock and pumpkin puree in a medium saucepan and whisk until combined. Place over medium heat, bring to a simmer and then reduce the heat to low and keep warm.
Heat a large saucepan over medium heat then add the olive oil, shallots and salt. Cook for about 2 minutes until softened.
Add the Arborio rice and thyme to the shallot mixture and saute for another 2 minutes until the rice is lightly toasted.
Add one ladle of the warmed stock and pumpkin mixture to the rice. Stir occasionally until most of the liquid has been absorbed. Add another ladle full and stir until absorbed.
Repeat these steps until all the liquid has been added and absorbed. This should take about 20-25 minutes to get your risotto to a nice creamy consistency.
Stir in the nutmeg, parmesan and half of the parsley. Season with salt and pepper.
Serve immediately topped with the remaining parsley, goat cheese and dried cranberries.
The Sisters Kitchen http://www.thesisterskitchen.com/