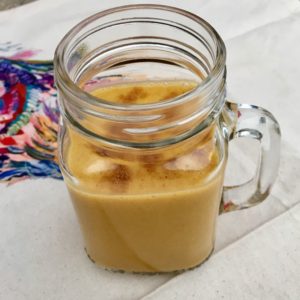 ~Amanda~
It's the day after Thanksgiving and Christmas is right around the corner…which means Christmas baking is almost here too! But before we can get to that, there's just one problem – what do we do with all this leftover pumpkin?! If you're anything like me, you probably have a few cans of pumpkin puree leftover from all the pumpkin madness that is fall. If you have pets, the answer is obviously to share some of it with them – it is SO good for them and our dog and cat are obsessed with pumpkin – it's gotten to the point where they will come running into the kitchen anytime I open a can just in hopes that it's a can of pumpkin. But seeing as you shouldn't give them too much pumpkin (daily give a few tablespoons for a larger dog and only about ½-1 tablespoon for a cat), you'll need to do something with the rest and that is where these awesome Pumpkin Spice Smoothies came from!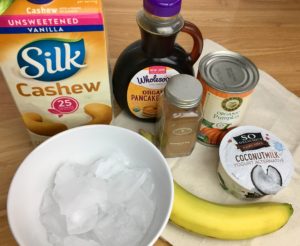 These smoothies are the perfect way to start your day, to have as an afternoon snack or even as an after dinner treat. I use good-for-you ingredients so they are healthy, filling and so satisfying. The main ingredient is clearly the pumpkin – pumpkin is fairly low calorie (only 50 per cup!) and high in fiber which means you'll feel fuller for longer. Pumpkin can also boost your vision, lower blood pressure, help you sleep better and so many more things – we should probably eat it in everything! Another ingredient that no smoothie is really complete without is a banana; they provide a good creamy base and their flavor goes with just about anything. Another great way to add creamy texture and great flavor is through yogurt; I started eating dairy-free yogurt a while ago because it just settles better and I love the SO Delicious Vanilla one in this smoothie, the subtle hint of vanilla goes great with the pumpkin.
Now that we've gotten the base taken care of, we need to add some flavor! It's a pumpkin spice smoothie, so we definitely need to add some pumpkin pie spice. A little bit goes a long way, so ½ teaspoon is all you need. I also add some maple syrup for a little sweetness (you do not need to add much of either of these if you're using pumpkin pie filling instead of pumpkin puree – that already has added spice and sweetness). And finally, add some milk to help the smoothie blend better – again, I like to go dairy-free when I can, so I use cashew milk (it's also great because it's so low calorie). Add some ice and blend everything in a blender until it's smooth and creamy then top it with a little nutmeg and you've got yourself one of the best smoothies ever… and all that leftover pumpkin doesn't go to waste! Enjoy!
Pumpkin Spice Smoothies
2017-11-20 13:32:16
Serves 2
Ingredients
½ cup pumpkin puree
*You can use pumpkin pie filling, but it will be much sweeter so reduce the amount of syrup and spice you add
1 banana
8 ice cubes
6 ounces vanilla yogurt (I use coconut milk yogurt to keep it dairy free)
½ teaspoon pumpkin pie spice
1 teaspoon maple syrup
3 tablespoons milk (again, I use cashew milk to keep it dairy free)
Nutmeg, for garnish
Instructions
Combine all ingredients in a blender and blend until smooth. Pour in a glass a top with a sprinkle of nutmeg.
The Sisters Kitchen http://www.thesisterskitchen.com/