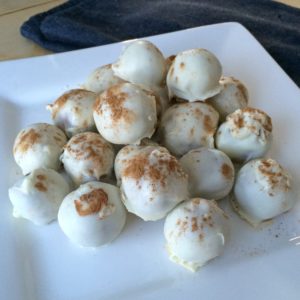 ~Amanda~
I am definitely one of those people that completely takes part in the pumpkin recipe madness every fall. I absolutely love pumpkin and will put it in pretty much every recipe that I can. Every year I try and make at least one or two new pumpkin recipes and this year was the perfect time for me to try out this recipe for these White Chocolate Pumpkin Truffles that I had recently pinned (from Sallys Baking Addiction) and been dying to make. These truffles are the perfect desert to bring to a party or gathering because they are so easy to eat and don't require dishes or utensils or anything, just pick them up off the plate and eat 'em… your host will love you for bringing something that they don't have to clean up after – I also had to keep a few extra in the fridge for a quite bite of something sweet and yummy!
This recipe originally caught my eye because of the combination of pumpkin and white chocolate. This is one of my favorite combos (check out my Pumpkin and White Chocolate Trifle recipe, it's my go to for Thanksgiving dessert every year – it's a trIfle, not trUffles like this recipe, just so you don't confuse them – they're both worth making every year) and I think the flavors just work together so perfectly. The first step in the recipe is to make the truffle filling; a combination of cream cheese, powdered sugar, pumpkin puree, pumpkin pie spice, cinnamon, white chocolate, and my favorite ingredient; gingersnap cookies! The original recipe called for graham crackers, but I substituted gingersnap cookies because they bring in so much flavor and I love the warm spices and crunch you get from them. I also find it's much easier to find gluten free gingersnap cookies than it is graham crackers.
Next comes the outer layer of white chocolate… I'm going to warn you, this is messy and I almost gave up on these truffles halfway through dipping because I am too much of a perfectionist and was not pleased with the mess I was making. But I powered through, and although they didn't all look great, they tasted so good that it didn't even matter what they looked like. One thing I did learn though is that you should freeze the truffles for about 30 minutes before dipping them. After just being refrigerated, I found that they softened up really quick and started falling apart. I also just used a fork as my dipping tool (because who has a 'dipping tool'?!), but if i ever want to make these again so they look better, I think I will actually invest in a legitimate dipping tool. No matter how you do it though, I really just learned that it doesn't matter how bad they look because they are some of the most amazing tasting little treats I have ever had and I will be making them over and over again! Enjoy!
Pumpkin White Chocolate Truffles
2016-11-10 12:24:49
Ingredients
¼ cup cream cheese, room temperature
2 tablespoons powdered sugar
⅓ cup pumpkin (puree, not pie filling)
1 ¾ cups gingersnap cookies, finely ground (gf)
½ teaspoon pumpkin pie spice
½ teaspoon cinnamon
½ cup white chocolate chips, melted* (for the filling)
1 ½ cups white chocolate chips, melted* (for the topping - do not melt until ready to use)
Topping: extra ground gingersnap cookies, dash of pumpkin pie spice, or sprinkles
Instructions
In a medium bowl, beat the cream cheese and powdered sugar with a handheld mixer (or stand mixer with paddle attachment) at medium speed until fluffy, about 1 minute.
Add the pumpkin and beat on high until combined.
Add the gingersnap cookie crumbs, pumpkin pie spice, cinnamon, and ½ cup melted white chocolate. Beat on medium speed until combined.
Cover and refrigerate for at least one hour (up to 24 hours) until completely chilled; this is the only way you will be able to mold the filling into balls, it will not hold any form at room temperature.
Line a baking sheet with parchment paper.
Roll the chilled mixture into balls and place on baking sheets; you can determine what size you prefer from as small as a teaspoon to as large as a tablespoon (I make mine closer to a tablespoon size).
Chill the balls in the refrigerator for at least an hour (up to 24 hours). I found for even easier handling to put them in the freezer for the last 30 minutes.
Melt the 1 ½ cups of white chocolate chips and let cool for about five minutes before next step.
Dip each truffle into the white chocolate using a dipping tool (or fork). Tap on side of bowl to get excess chocolate to drip off and then place back on parchment paper to set.
Immediately top with your topping of choice before the chocolate sets or it won't stick (this happens very quickly).
Once all truffles have been dipped, return to refrigerator to set completely.
These can be served right out of the fridge or can be set out at room temperature for a few hours.
Store in airtight container for up to 1 week.
Enjoy!
Notes
*to melt chocolate chips, place in a microwave safe bowl and heat in 30 second increments in the microwave (stirring in between each increment) until just melted. I usually only need to go for a minute total.
The Sisters Kitchen http://www.thesisterskitchen.com/