~Amanda~
The holidays are here and that means it's time to cook all that delicious holiday food and bake all those amazing Christmas cookies. And it also means we are doing 5 days of Christmas Cookies on The Sisters Kitchen again! Last year the 'theme' for all our cookies was our heritage; we are Scandinavian and German so we researched and made cookies that are all traditional to our family's heritage and roots (check out all those recipes HERE, they were so delicious). This year, we decided to do something different and make cookies from other heritages and countries from around the world so we could get some new cookie ideas and make some of our other favorites that we didn't get to last year. To kick off the week, we're starting with Russian Tea Cookies, which are more widely known as Snowballs or Mexican Wedding Cookies and are a holiday favorite in many homes around the world!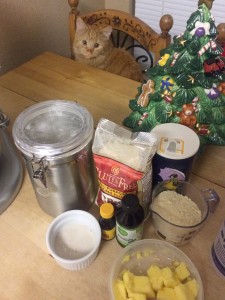 (our new kitty, Summit, loves sitting in his chair watching me cook… in between attempts of stealing my ingredients of course)
Russian tea cakes are a form of jumble, which is a pastry that was common in England during the Middle Ages and is usually made and eaten around Christmas time. I've done a lot of research to try and find out what makes these cookies "Russian" and I found pretty much nothing… any connection they may have to Russian cuisine is all speculation; they could possibly have been the cookies served beside Russian samovars (tea urns) way back when, but nobody really seems to know for sure if that's where they originated. But since we're doing cookies from around the world this year, we're going to pretend like they really are from Russia… either way, they originated somewhere in Europe, so we're good.
One of the reasons these cookies are so popular around the world is because the recipe is very simple to make and only has a few ingredients; flour, sugar, butter, and ground nuts. In this recipe, I used almond flour (ground almonds) for the nut portion. Most European versions of these cookies will use hazelnuts, almonds, or walnuts and the Mexican version uses pecans. To make the cookies; you combine all the ingredients with a mixer, roll them into balls, and bake. After baking, the balls are rolled in powdered sugar giving them a snowball like appearance, hence the nickname.
The main reason I personally love these cookies so much is because they are easily made gluten free and they are so delicious, Using gluten free ingredients didn't impact the taste or texture at all (some cookies you just can't make gluten free, they never taste quite the same). To make them gluten free, all you have to do is use gluten free baking flour instead of your regular all-purpose flour. Gluten free or gluten full, they are so tasty and have such a sweet and mild flavor, so just about everyone loves them. They're great to bring to your holiday parties or as homemade gifts for your friends and family! Happy Baking!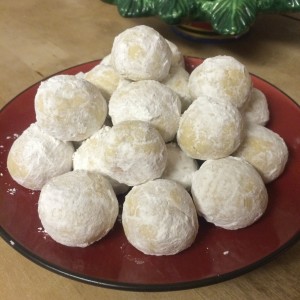 Russian Tea Cookies
2015-12-10 15:26:38
Ingredients
1 cup butter, softened
1/2 cup powdered sugar
1/4 teaspoon salt
1 teaspoon vanilla extract
1/4 teaspoon almond extract
2 tablespoons milk
2 1/4 cups gluten free baking flour (or all-purpose for gluten full cookies)
1 cup almond flour
1/2 to 1 cup additional powdered sugar for coating
Instructions
Preheat oven to 325 degrees.
Place the butter and powdered sugar in the bowl of a stand mixer (or a large bowl if you're using a hand held mixer) and cream.
Add in the vanilla and almond extracts and combine.
Add in the flour, milk, almond flour, and salt. Combine until a soft dough has formed.
Using your hands, roll the dough into 1 inch balls and place on an ungreased baking sheet.
Bake for 15 minutes.
Remove from oven and let rest a few minutes. While the balls are still warm, roll them in the powdered sugar to coat. Let cool, and then roll in powdered sugar once more.
Store in an airtight container and enjoy!
The Sisters Kitchen http://www.thesisterskitchen.com/