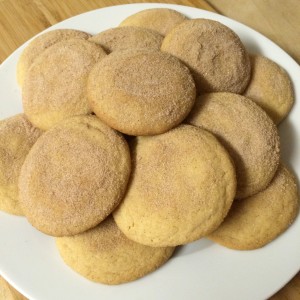 ~Amanda~
Snickerdoodles are such a classic and traditional cookie that have been around forever, and they have always been one of my favorites. They are simple cookies packed with the most delicious cinnamon and sugar flavors and the most wonderful soft and chewy texture, and a little crisp around the edges. Pretty much everyone I've met loves them and that's why when Conor's birthday rolled around last week I decided to make him a big batch of these cookies to take to work with him as a birthday treat (for him and all his coworkers).
Snickerdoodles most likely originated in Germany (no one's actually certain) and have been around since the late 1800s. They are some of the easiest cookies to make. The only ingredients you need are flour (I used real flour for these…it is Conor's birthday after all, I wasn't going to make them gluten-free!), sugar, butter, eggs, vanilla, baking soda, and cream of tartar. Cream of tartar seems like a weird ingredient for cookies, but that's exactly what sets Snickerdoodles apart from your plain old sugar cookie. The cream of tartar adds that signature 'tang' and chewiness to the cookies; without it, they would be much thinner and crunchier like a normal sugar cookie. And of course you roll them in cinnamon and sugar too, which elevates them even more!
To make the cookies you simply cream together the sugar and butter, add the eggs and vanilla, and then the dry ingredients. You form the dough into two inch balls and then roll the balls in a cinnamon and sugar mixture. After that you place them on the baking sheet and gently press down with your hand to slightly flatten them (you still want them fairly thick so they come out big and fluffy). After they come out of the oven they will be so beautiful and light and airy, it'll be hard to resist eating them right then and there. But I like to sprinkle a little extra cinnamon and sugar on top after they're done baking and then once they cool a little, they're ready to eat! Whether you're looking for a birthday treat, a Valentine's day snack, or you just want one of the tastiest cookies ever, these Snickerdoodles are guaranteed to please.
Snickerdoodle Cookies
2015-02-11 13:08:49
Ingredients
1/2 cup butter (1 stick), softened
1/2 cup sugar
1/3 cup brown sugar
1 egg
1/2 teaspoon vanilla
1 1/2 cups flour
1/4 teaspoon salt
1/2 teaspoon baking soda
1/4 teaspoon cream of tartar
1/2 cup sugar
2 teaspoons cinnamon
Instructions
Preheat oven to 300 degrees and spray a cookie sheet with nonstick spray.
In a large bowl, cream the butter and sugar together using an electric mixer on high.
Add the egg and vanilla and beat until smooth.
In a separate bowl, combine the flour, salt, baking soda, and cream of tartar.
Pour the dry ingredients into the wet and mix together until dough is formed.
Mix the sugar and cinnamon together in a bowl.
Form the cookie dough into balls (about 2 tablespoons per ball), the roll in the sugar mixture, and then press gently onto the cookie sheet.
Bake for about 12 minutes until golden around the edges. Remove from oven and transfer to rack to cool.
The Sisters Kitchen http://www.thesisterskitchen.com/