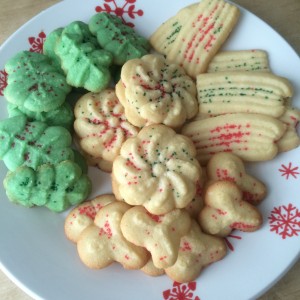 ~Amanda~
A few years ago I was gifted a Spritz press that used to belong to my Grandma and was so excited to get to make the cookies that she loved to make with the same press she used to use. The first time I opened it up to make cookies, I took out all the parts and along with them a little recipe card fell out… it was handwritten by my Grandma and she had noted that it was her Aunt Onie's recipe (my great-great Aunt)! It was so special to find something so personal of hers and a recipe that goes back several generations… I definitely got a little teared up. So without even planning on it, I ended up with a traditional family recipe for Spritz Cookies and will always make them for Grandma! So what exactly are Spritz Cookies?! They are formally known as Spritzgebäck and are a classic German pastry which is most often served during Christmas time. They're made by using a cookie press which squirts the dough into a cute shape onto a baking sheet (the German verb spritzen means to squirt in English, so that is where the name comes from).
Spritz cookies can be made in so many different ways; you can add food coloring to them, use different toppings, you can make warm spiced cookies, or sweet traditional ones. My Grandma's recipe was for the sweet traditional ones that are just perfect and to make them more festive I like to add some fun Christmas colors to them. These traditional Spritz cookies are made with flour, butter, sugar, and eggs. Once you combine all these ingredients together with vanilla and almond extracts, you chill the dough slightly and then put it in your cookie press and press them out on a baking sheet. Sounds simple enough, but you have to know how to work your cookie press to do this!
To use a cookie press, follow these simple steps; first, roll out the dough into a log shape and place it in the barrel. Then select the disc you want to use, and place it on top of the barrel (there should be a ring that you remove before you put the disc on, and then replace on top of the disc). Now to press out the cookies, you place the cookie press vertically on top of an un-greased cookie sheet (the cookie sheet MUST be un-greased so that the dough 'sticks' to it and will detach from the press) and twist the handle at the top so the dough comes out and then gently lift up the press so that the dough separates from it. Repeat until all the dough is gone, then refill and continue.
After you're done pressing out the cookies, you can top them with festive sprinkles or sugar and then bake them at 350 degrees for about 8 minutes until they are just set and very slightly golden around the edges. When done correctly, the cookies should turn out crisp, fragile, a little dry, and buttery. I have so much fun making these each time and I think they are definitely a must on my Christmas cookie list every year – especially knowing they were a traditional cookie of my Grandma's and every time I make them, I'll be reminded of her!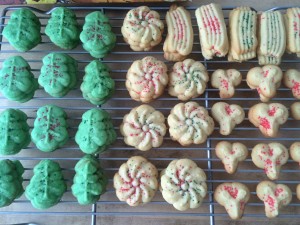 Classic Spritz Cookies
2015-12-10 15:31:18
Ingredients
1 cup butter, softened
1 cup powdered sugar
2 egg yolks
2 cups all-purpose flour
1/4 teaspoon almond extract
1 teaspoon vanilla extract
food coloring (optional)
colored sugar and sprinkles (optional)
Instructions
Preheat oven to 350 degrees.
In a large bowl, cream together the butter and sugar using a mixer on medium-high speed. Add the egg yolks, almond extract, and vanilla extract. Mix to combine.
Stir in the flour until combined and then add in the food coloring to reach desired color (optional).
Place the dough into a cookie press and press out in desired shapes onto ungreased cookie sheet.
Decorate cookies with colored sugar or sprinkles, if desired.
Bake for 5 - 8 minutes until cookies are set, but not yet brown.
Transfer cookies immediately from pan to a cooling rack.
The Sisters Kitchen http://www.thesisterskitchen.com/