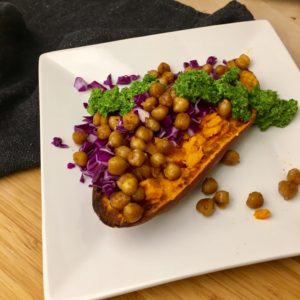 ~Amanda~
One of the most important things to remember when trying to live a clean, healthy, nutrient dense lifestyle is to eat colorful foods – NATURALLY colorful foods, none of that artificial stuff. Fruits and veggies that are naturally bright and full of color are almost always loaded with antioxidants, vitamins and minerals and we should all always aim to have at least two or three different colors on our plates at every meal. Plus, a plate of colorful foods is way more appetizing than a plate of boring brown foods (not to say that they're bad foods necessarily, proteins and carbohydrates tend to fall in the more bland color scheme of browns and whites). Which brings me to this awesome dish – these stuffed sweet potatoes are one of my favorite clean eating dishes. The colors in the picture should tell you how healthy they are and they are equally as delicious with the sweet potatoes, vibrant pesto, crunchy cabbage and toasted garbanzo beans!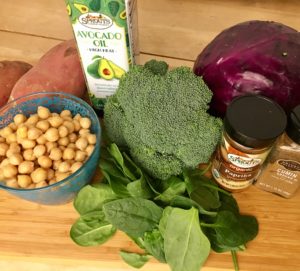 Sweet potatoes have become a favorite food of mine over the past few years and are a go to in many clean eating and whole 30 meals plans. Our dad has never been a potato fan and we rarely had potatoes in any form growing up, so when I first started cooking with sweet potatoes (outside of the traditional Thanksgiving dish) a few years ago, I couldn't believe that I had been missing out on them for so long! Their texture and slightly sweet flavor makes them a great base for so many dishes, like this one, but more importantly, they are so so healthy! They are one of the best veggies out there as they are high in fiber, iron, antioxidants and vitamins A and C. They are also known to give you healthier skin and increased immunity. SCORE! Roasting them like I do here is a great way to bring out some awesome flavor and you get much better texture than when boiling or microwaving them.
Another pop of color that you'll quickly notice in this dish is the GREEN in the pesto! Spinach and Broccoli are both vibrant greens and make up the awesome pesto that you put on top of the sweet potato and garbanzo beans. A traditional pesto is usually made with basil, nuts and parmesan cheese, so this is clearly going to taste different than that, but it's also way way better for you. I love the burst of flavor your get from the broccoli, the nutrients from the spinach and smooth, light texture of the avocado oil. Broccoli is another powerhouse vegetable that we should all strive to eat plenty of; it's high in calcium and iron which helps with strong bones, teeth and muscles!
Another super important component of these stuffed potatoes is garbanzo beans. I LOVE garbanzo beans and will incorporate them into so many meals – they're perfect on top of salads, added to Buddha bowls or even blended up into HEALTHY COOKIE DOUGH which is like the best thing ever. They're also a great source of fiber and protein so they're good and good for you too! So FINALLY, how do we pull this all together?! First you roast the potatoes in the oven. While those are roasting, you blend up your pesto, chop up some cabbage and saute the garbanzo beans in coconut oil with some warm and flavorful spices (hello cumin, chili powder and paprika). Once all the components are prepared you toss them all together on top of the potato and enjoy! They're perfect as a side dish at dinner (we recently had them alongside some Honey Mustard Salmon) but also make sure you prepare extras to have for lunch the next day! ENJOY and remember to eat the rainbow!
Roasted Sweet Potatoes with Chili Garbanzo Beans and Broccoli Spinach Pesto
2018-01-17 13:40:20
Serves 4
Ingredients
2 medium sweet potatoes, cut in half
1 cup broccoli florets
1 cup fresh baby spinach
1 clove garlic, minced
2 tablespoons avocado oil
¾ cup garbanzo beans
1 teaspoon coconut oil
½ teaspoon cumin
½ teaspoon chili powder
¼ teaspoon paprika
¼ cup red cabbage, chopped
Instructions
Preheat oven to 425 degrees.
Cover a baking sheet with aluminum foil and spray with non-stick spray.
Place the sweet potatoes flesh side down on the baking sheet and bake for 15 minutes. Flip the potatoes so they are skin side down and bake for another 15 minutes.
While the potatoes are baking, combine the broccoli, spinach, garlic and avocado oil in a food processor until the pesto is formed (it will be somewhat chunky). Set aside.
When there are about ten minutes left for the potatoes, heat the coconut oil in a medium sized skillet over medium heat.
Add the garbanzo beans, cumin, chili powder and paprika and toss to combine. Saute for about 10 minutes until warmed through and slightly crispy.
When the potatoes are done, remove from the oven and top with the garbanzo beans, diced cabbage and pesto.
Enjoy!
The Sisters Kitchen http://www.thesisterskitchen.com/