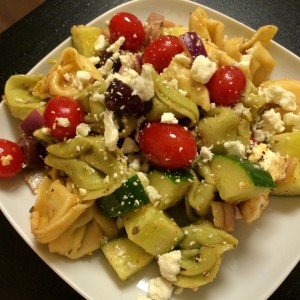 ~Jackie~
Summertime brings a much larger assortment of some of my favorite fresh ingredients, and the change in weather always inspires me to switch up our meals and what we pack for lunch. Lunches can get so boring and eating out every day is too expensive so I really try and be creative in what I pack for us. Steve and I certainly have different food preferences and this is a dish that I make specifically for him (pasta salad isn't exactly my first choice for my weekday lunches, but it definitely is for Steve). The pasta salad is Greek inspired, but with some Italian flare and it's filled with fiber, protein, and carbs so it leaves him full and satisfied. Since I wasn't planning on eating much of it, I also included some kalamata olives (which I hate, but know he loves).
The ingredient list is short and the how-to-make directions are even shorter so it is an easy week night meal to prepare or a great option to pre-make for lunches; I simply cook the tortellini, throw all the ingredients in a bowl, add some dressing, and done. I made this on Monday and had so much extra that I started giving some away to my co-workers on Wednesday because even Steve could only eat it so fast, and everybody that tried it, loved it. This salad can be served as a great side dish to a sandwich or wrap or at a summer picnic, but it can also easily be served as the main dish.
To make this incredible dish, start by boiling water and cooking the tortellini according to the package directions. I like using the tri-colored cheese tortellini simply for appearance and color. Once the tortellini is cooked, rinse it with cold water to stop the cooking process (no need to cool in the fridge before you mix with the other ingredients). The vegetables and meats that you add can be swapped and replaced for what you love and what you have available. I went simple with red onion, cherry tomatoes, cucumber, olives, salami, and feta, but some other great ingredients would be sun-dried tomatoes, artichokes, banana peppers, diced chicken, cubed mozzarella, etc… Add the cooled tortellini to your chopped vegetables, then whisk together the dressing ingredients and pour over everything. After it's all coated, top with some feta cheese for a creamy and salty finish.
This salad is best served chilled, but it is still delicious if you want to eat it right away while it's still warm. After about a day I noticed that the pasta had really soaked up the dressing so when I packed lunch for Steve I drizzled a little extra red wine vinegar on top to keep it fresh and coated. Serve at your next summer BBQ or pack for lunches next week and enjoy. Happy summer lunchin'!
Tortellini Pasta Salad
2015-05-18 13:51:38
Serves 8
for the pasta salad
1 20 oz package refrigerated cheese tortellini
1 english cucumber, diced
1/2 red onion, diced
1 1/2 cups cherry tomatoes, halved
1 cup kalamata olives, pitted
1/2 cup salami, cubed
3/4 cup feta cheese, crumbled
for the dressing
1/2 cup extra virgin olive oil
4 tablespoons red wine vinegar
1/2 teaspoon dried oregano
1/4 teaspoon garlic powder
1/4 teaspoon smoked paprika (or cayenne for more heat)
salt & pepper
Instructions
Cook tortellini pasta according to package directions. Drain and rinse with cold water, set aside.
Prep vegetables and salami and add to large bowl; add in cooled tortellini and gently mix.
Whisk dressing ingredients in small bowl: extra virgin olive oil, red wine vinegar, oregano, garlic powder, paprika, and salt and pepper. Pour over salad immediately and fold gently until all ingredients are coated.
Top with crumbled feta cheese and serve immediately or store in fridge for one hour for best results.
Notes
Stores in refrigerator for 4 days. If salad dries out after a day or two, add a few teaspoons of red wine vinegar and stir.
The Sisters Kitchen http://www.thesisterskitchen.com/