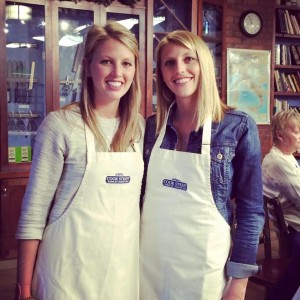 Welcome to The Sisters Kitchen where we are taking our passion and love for cooking, family, and life and putting it all into one place to share with you. First things first, we are Amanda and Jackie and we are not only sisters, but best friends. We are born and raised Colorado girls and throughout our lives, we have developed a great passion for food. We love to cook, bake, create, discover, experiment, and travel to develop the best food experiences for ourselves and those all around us.
Our style of cooking generally tends to be very fresh and healthy, but we also strongly believe that life's too short to not indulge every once in a while – dessert is one of our favorite meals of the day! We love to cook a wide variety of foods and we look for inspiration from everything around us. Whether it's using the week's best produce found at a farmers market, recreating a delicious meal we had dining out, or taking the flavors from some of our favorite travels, we get ideas from everywhere and put our own spin on everything we make.
Our love for travel goes hand in hand with our love for food. We have traveled all over, from Europe to the Caribbean to right here in Colorado , where we spend many of our weekends up in the mountains. As part of our blog, we will take inspiration from these travels and turn it into great recipes and delicious meals when we return home or even while we are on our adventures.
We are also very active and are focused on leading healthy lifestyles. We love to exercise, both indoors and out, and do as many activities as we can in this great state we live in. From hiking in the summer to snowboarding in the winter, we try and soak it all up. This lifestyle leads us to put a lot of thought into the food we make and how to make it the best food for us to keep us healthy, happy, energized, and feeling great. We always are looking for new ways to make recipes and healthy alternatives to use in them while keeping them delicious and delectable. Fresh is always best and we avoid using over-processed foods as much as possible.
Another important influence on our cooking style is the fact that Amanda is gluten-free. She was diagnosed with celiac disease and that has played a big role in the way she cooks and the foods she cooks with. It has really forced her to be creative in making recipes and adapting recipes to fit her dietary needs, and overall made her a much better, more thoughtful cook. A good portion of the recipes we post will either be gluten-free, or have gluten-free options.
And now, when do we do all this cooking and who do we do it for? Amanda's favorite way to relax and wind down on a weeknight is to come home from work and spend time in the kitchen whipping up an amazing dinner. She lives with her husband, Conor, crazy dog, Molly and loving cat, Summit. Molly and Summit keep her company in the kitchen every night while she tests and creates new recipes and perfects the old ones and Conor gets the tough job of being taste tester for all of this food. Jackie and her husband Steve live together near Denver with their adorable dog, Dennis. Jackie loves cooking for Steve (and he for her, and them together). Jackie has learned to infuse her cooking style with Steve's love of meat and protein driven meals and is continually creating new dishes that are filling, healthy, and great for the active lifestyles we all live. Our parents and brother also live nearby and one of our favorite things to do is cook big meals for the whole family. Whether it be a Sunday night family dinner, a holiday dinner, or just a random evening together, cooking brings us all together. Family is the most important thing to us and one of our favorite ways to share our love for them is through our cooking!
We hope you enjoy our blog and are inspired by all the recipes we have to share with you!
~Amanda & Jackie~