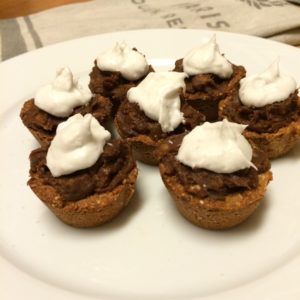 ~Amanda~
Pecan Pie is one of those classic holiday desserts that is so incredibly delicious… and for good reason, it is loaded with sugar, cream, butter and everything else that tastes so good, but isn't so good for us. If you've followed my posts, you know that I have the biggest sweet tooth and believe that we should all indulge in desserts, but sometimes I just want something sweet and delicious that doesn't come with so much guilt… so i introduce you to these amazing Salted Chocolate Pecan Tarts! They have all the flavor of your traditional pecan pie, but they're made with good for you ingredients like dates, coconut oil, almond butter, honey and 100% cocoa. And they're NO BAKE – what's not to love?! You can make these in regular muffin tins or if you're going to a potluck style meal (like we did when I made these), you can make them in mini muffin tins so there's enough for everyone to have a perfect little bite.
The first step is to make the tart crusts. These are similar to a regular pie crust, but have a little bit more fall flavor with the addition of maple syrup and cinnamon. Instead of regular flour, I used almond meal/flour to make them gluten free. You mix all the ingredients together and the press firmly into the muffin tins. You want to make sure that you press hard enough so that they will set up and hold their form when you take them out later. Next comes the filling… normally this is where you have all the butter, sugar, and cream to make the caramel sauce, but not here! I bet you didn't know that when you puree dates with honey, coconut oil, vanilla you get something that tastes incredibly similar to caramel with almost no guilt at all! I also added in some 100% unsweetened cocoa powder too because I love chocolate and wanted to put a little twist on the traditional recipe.
One the filling is made and poured into the tart shells, you chill it in the freezer for about 10 minutes to help everything set up, then they are ready to serve – NO BAKING! If you want to keep them nice and healthy (and dairy free), top them with some coconut cream, but if you want to indulge just a little bit (or can't find coconut cream in the store like me a lot of the time) then top them with a dollop of regular whipped cream. And no matter what cream you use, a little sprinkle of sea salt of the top is the perfect finishing touch – the combination of sweet and salty is heavenly to me. I hope you enjoy these little tarts as much as I do and can have them as your guilt free holiday dessert this season too… more room for all the cookies to come (our December holiday cookie week is not too far away)!
Salted Chocolate Pecan Tarts
2016-11-17 12:29:27
For the Crust
1 ½ cups almond flour
1 teaspoon ground cinnamon
¼ teaspoon sea salt
¼ teaspoon baking soda
3 tablespoons maple syrup
2 ½ tablespoons coconut oil
2 teaspoons vanilla extract
For the Filling
2 cups dates, pitted and soaked in boiling water for 10 - 20 min, then drained
2 tablespoons coconut oil
1 teaspoon honey or agave
6 tablespoons almond butter
2 tablespoons 100% unsweetened cocoa
¼ teaspoon salt
2 teaspoons vanilla extract
Other Ingredients
3 cups raw pecans
Sea Salt, for garnish
Whipped cream or coconut cream
For the Crust
Preheat oven to 325 degrees.
Combine all tart ingredients in a medium bowl until mixed well enough that it can be pressed into a ball. Cool in refrigerator for 10 minutes..
Line 12 muffin tins (or 24 mini muffin tins) with and fill evenly with tart mixture, pressing down with hands or shot glass to form a base and sides (like a mini pie crust).
Cool in freezer for 10 minutes, then bake for 15 minutes.
Let cool completely (about 15 minutes).
For the Filling
Spread the pecans in a thin layer on a baking sheet and pop into the oven (same temperature, 325 degrees) for about 10 - 15 minutes until toasted and slightly browned. Set aside.
Place all filling ingredients into a food processor and process until creamy.
Combine the pecans and filling mixture in a bowl and the pour into muffin tins and push down to fill the tart shell.
Cool for 10 minutes in the freezer.
Top with whipped cream and a sprinkle of sea salt and enjoy.
The Sisters Kitchen http://www.thesisterskitchen.com/