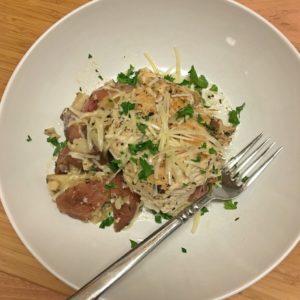 ~Amanda~
I'm not sure if I've ever brought out my crockpot in September before, but this past weekend the weather was chilly and rainy and all I wanted was a nice warm meal baking in the kitchen all day, filling my house with amazing aromas and the feels of fall (side note: I am not ready for fall and this weather has me way depressed, but I had to push through those negative thoughts and embrace it for a day – I am ready for warm weather and grilling already). I had already decided on making this amazing Pumpkin Risotto as a side dish for dinner, so I wanted a crockpot meal that would complement that well and this Garlic Parmesan Chicken with Red Potatoes came to mind. It's a favorite of mine because it is quick and easy to pull together, the ingredient list is short, and the flavors are just awesome – who doesn't love garlic, parmesan and thyme? Plus I'm a sucker for carbs on a chilly day, hello potatoes!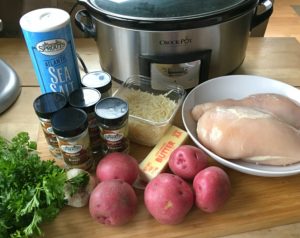 The first step is to cut up your potatoes, the ones I bought were fairly large so i ended up cutting them into sixths instead of quarters just to make sure they cooked all the way through and got nice and tender. You then toss them in the crockpot with the olive oil, garlic, thyme, salt and pepper and arrange in an even (ish) layer. Then sprinkle some parmesan cheese over the top of them. Try and make sure it's on the potatoes and not so much touching the crockpot so it doesn't bake on there – what a mess to clean (speaking from experience!). To prepare the chicken, you want to season it with all the herbs and then brown the outsides.
Browning is simple, all you have to do is melt some butter in a skillet and cook the chicken for a few minutes per side – mine took about 5 minutes each side. Once the chicken is browned, place it in an even layer on top of the potatoes in your crockpot and close the lid. You cook it for 6-7 hours on low heat or about 3 hours on high heat. Just be careful to check on it and not over cook the chicken or it will get dry since you're not roasting it in any sort of sauce. Once the chicken is fully cooked and your potatoes are nice and soft, serve it all together topped with more fresh parmesan cheese and a sprinkle of parsley to make the flavors pop. Enjoy immediately or store in airtight containers for lunches during the week!
Crockpot Garlic Parmesan Chicken with Red Potatoes
2017-09-28 12:29:59
Serves 6
Ingredients
2 large chicken breasts
½ teaspoon dried basil
½ teaspoon dried oregano
¼ teaspoon dried rosemary
salt and pepper, to taste
2 tablespoons unsalted butter
2 pounds baby red potatoes, quartered
2 tablespoons olive oil
4 cloves garlic, minced
½ teaspoon dried thyme
1 cup Parmesan, grated
2 tablespoons fresh parsley, chopped
Instructions
Add the potatoes into a crockpot and toss with the olive oil, garlic, thyme and salt and pepper, to taste. Sprinkle ¼ cup of the parmesan cheese on top of the layer of potatoes.
Coat the chicken with basil, oregano, rosemary, salt and pepper.
Heat a large skillet over medium heat and melt the butter.
Add the chicken and sear both sides until golden brown, about 5 minutes per side.
Add the chicken in an even layer on top of the potatoes and cook for 6-7 hours on low or for about 3 hours on high, until the chicken is completely cooked through (165 degrees F internally).
Serve topped with a sprinkle of Parmesan and fresh parsley.
The Sisters Kitchen http://www.thesisterskitchen.com/