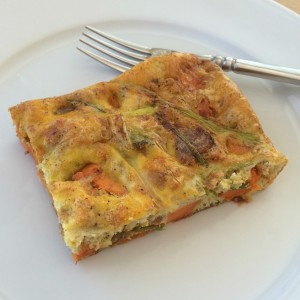 ~Amanda~
I am always in search of new and delicious breakfast ideas, I mean it is the most important meal of the day, right?! While I was doing the Whole30 a few weeks ago, I came across a recipe for a sweet potato quiche that really got my attention; I love sweet potatoes and I love eggs and the idea of combining them together into a quiche was brilliant. I made a couple different variations of sweet potato quiches throughout my Whole30 and this recipe is the final one I came up with that I enjoy the most. It's so simple to make, only has a few ingredients, and is full of delicious flavor. Another great thing about making a large quiche like this is that it's perfect to have for breakfast on a weekend morning and then you have leftovers to bring for breakfast at work throughout the week (I am not a fan of boring work breakfasts, I always like to have something exciting and delicious to start my day off with, so this is perfect)!
The first, and most important, ingredient in this dish is obviously the sweet potato. Sweet potatoes are incredibly nutritious and a great food to include in your breakfasts. Sweet potatoes are high in vitamin A (a large one has more than 100% of the daily recommended intake), vitamin B5, B6, thiamin, niacin, riboflavin, and carotenoids. Plus they're fat-free and relatively low in sodium. To prepare the sweet potatoes, peel them and cut them into ½ inch cubes, toss with some melted coconut oil, salt, pepper, and cayenne (this is always optional, but I love the little kick it adds). Then bake them for 25 minutes to get them somewhat cooked through before adding them to the quiche. The other main component of the dish is the meat. I love to make this with chicken breakfast sausage, but if you're actually on the Whole30 and can't find compliant breakfast sausage, substitute bacon (I found that compliant bacon was much easier to find). Simply cook up the meat and dice it into small bites.
The final prep step is to quickly sauté the green onions so they get nice and soft. You get so much flavor if you do this in the same pan that you cooked your meat in, so they absorb some of that flavor. Once all your ingredients are prepared, it's time to assemble the quiche. First, place the sweet potatoes in the bottom of a greased (with coconut oil) 8×8 inch pan. Then sprinkle with the meat and green onion. Finally, pour the eggs over top of everything. Make sure the majority of the sweet potatoes and meat is submerged and then pop it in the oven for about 40 minutes to cook. You want to make sure all the eggs are cooked through and the top is a great golden brown color. Now it's time to eat! I love to have mine with a side of avocado and little hot sauce over the top (and of course if you're not Whole30, a little cheese on top is always a delicious addition)! Happy Breakfast-ing!
Sweet Potato Breakfast Quiche (Whole30)
2015-11-08 13:19:30
Serves 8
Ingredients
2 large sweet potatoes, peeled and cut into 1/2" cubes
1 1/2 tablespoons coconut oil, melted
1/4 teaspoon cayenne
salt and pepper
1/2 cup breakfast sausage, cooked and diced (or 3-5 pieces bacon cooked and dived)
5 green onions, thinly sliced
1/4 teaspoon nutmeg
8 eggs
Instructions
Preheat oven to 425 degrees.
Combine cubed sweet potatoes with coconut oil, cayenne, and salt and pepper to taste. Spread in an even layer on baking sheet lined with aluminum foil. Bake for 25 minutes.
Cook the green onions in a small skillet (preferably the one you cooked the sausage or bacon in) with a little coconut oil until softened. Set aside.
When the sweet potatoes are done, lower the heat of the oven to 350 degrees.
In a medium bowl, whisk the eggs with the nutmeg and a dash of salt and pepper.
Grease an 8x8 inch square pan with coconut oil.
Place the sweet potatoes in an even layer in the pan. Then sprinkle the sausage (or bacon) on top of them. Then spread the green onion over top of those. Finally, pour the egg mixture over everything (make sure the majority of the sweet potatoes and sausage are submerged).
Bake for about 40 minutes until cooked through and golden.
Enjoy!
The Sisters Kitchen http://www.thesisterskitchen.com/