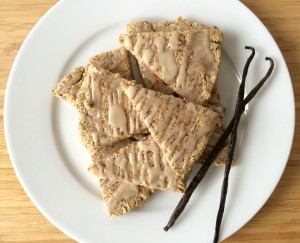 ~Amanda~
For Christmas this year, Jackie gave me fresh Vanilla Beans in my stocking. I have never used fresh vanilla beans before, but have always dreamed about cooking with them. So naturally it took me forever to decide exactly what I wanted to make, because I had to make something so perfect with this much desired and rare ingredient in my kitchen. I finally decided to make Vanilla Bean Scones this past weekend when we woke up to a fresh snowfall on Sunday morning. They just sounded like the perfect nice, warm breakfast to have, and baking on a beautiful snowy morning is the best way to start the day!
I loved this gluten free scone recipe because it uses two of my favorite flours; coconut flour and almond flour. I was out of the finely ground almond flour the morning I made these (and I wasn't going to drive to the store in the snow that early), so I used a more coarse almond meal. This made the scones much denser than they normally would be, but I actually loved the texture and the flavor was amazing. However, I would recommend using almond flour, if possible, to get the lighter, fluffier texture that you normally would expect in scones. To make the scones combine the flours with the other dry ingredients and vanilla bean before adding the wet ingredients. The vanilla beans smell so incredible, my nose was in heaven while unwrapping it, adding even more to my excitement of using them. To get the seeds out, you use a sharp knife to slice the bean right down the middle and then use the edge to gently scrape them out.
After you make the dough, you press it into a large round on your baking sheet lined with parchment paper and cut it into eight sections (I use a pizza cutter for this!). You bake the scones until they are just golden around the edges and then take them out and allow to cool slightly. After a few minutes, you drizzle on the amazing vanilla bean glaze (made with powdered sugar, vanilla, and almond milk). This adds the perfect amount of sweetness to the scones and makes them more indulgent. You can enjoy the scones on their own when they're nice and warm out of the oven, or they're great after being cooled in the fridge, and even better when served with a side of scrambled eggs! Happy Baking!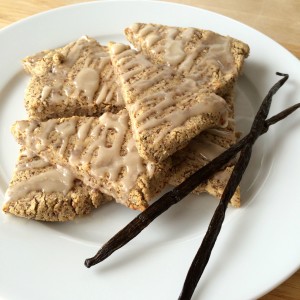 Vanilla Bean Scones
2015-02-02 15:35:28
Serves 8
For the scones
1 1/2 cups almond flour (or almond meal, your scones will be more dense)
1/2 cup coconut flour
1/2 teaspoon sea salt
1/2 teaspoon baking soda
seeds of 1 vanilla bean (or 1 teaspoon vanilla extract)
1 egg
2 tablespoons agave
1/2 cup vanilla almond milk
For the glaze
seeds of 1/2 vanilla bean (or 1 teaspoon vanilla extract)
1 cup powdered sugar
2 tablespoons vanilla almond milk
For the scones
Preheat the oven to 350 and line a baking sheet with parchment paper.
Combine the flours, salt, baking soda, and vanilla bean in a large bowl. Add the egg, agave, and almond milk. Mix until dough forms and create a large ball.
Place the dough ball on the baking sheet and press down to form a circle (about 1 - 1 1/2 inches thick). Cut the circle into 8 triangles.
Bake for 10-12 minutes until browned around the edges.
While the scones are baking, make the glaze.
For the glaze
Combine the vanilla bean (or extract) and powdered sugar in a bowl. Add the milk to the mixture just a little bit at a time, stir, and then add more until the desired consistency has been reached.
When the scones come out of the oven, let cool slightly and then use a spoon to drizzle the glaze over each scone. Enjoy!
The Sisters Kitchen http://www.thesisterskitchen.com/