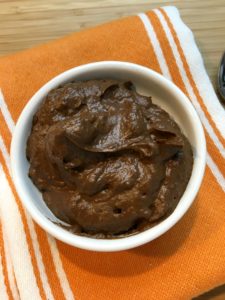 ~Jaclyn~
Happy January and happy eating clean! As everyone starts the new year and immerses themselves into new diets and workout plans, I decided to make some chocolate mousse! But don't judge me just yet – this mousse is filled with not only delicious ingredients, but healthy ingredients (think dates, avocado, pumpkin…) Even though the holidays are over, we still can't forget how delicious and healthy pumpkin is for us. The pumpkin along with avocado make this mousse thick, smooth, and so creamy. The cocoa powder takes over and we are left with a decadent dessert without decadent calories. #winning
You can find the original recipe for this vegan & paleo mousse here. I changed the recipe slightly because I don't use stevia (not for any specific reason), but I chose to use maple syrup instead. This mousse could not be easier to make, and can also be easily altered to fit your taste or dietary needs. All you do is throw all the ingredients into a food processor and blend until smooth. I like to wait to add the maple syrup (or choice sweetener) until the mixture has already been blended so I can taste and adjust my amount of sweetener if necessary. I also did not have pumpkin pie spice (it's basically thrown at you all throughout November and December, but once January hits it seems to completely disappear at the store), so I used some nutmeg instead. I would recommend using pumpkin pie spice if you have it, because it does provide more depth of flavor, but nutmeg works as well.
This chocolate pumpkin mousse is fantastic on its own as a small snack or dessert, but sometimes it feels good to just step it up a notch. I like to think of this mousse as a healthier version of nutella (which I love to put on anything and everything). So here are some of my ideas on how to make something great even greater: dip fruit in mousse (chocolate & banana – duh), top waffle or pancake with mousse and raspberries or strawberries (see pictured below), fill crepe with mousse, top with whipped cream and chocolate chips, or add chocolate protein powder to mousse for a healthy post-workout treat. I hope you enjoy this indulgent and satisfying dessert as much as I did! Happy clean eating!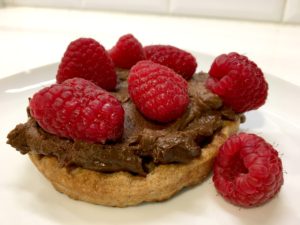 Pumpkin Chocolate Mousse
2018-01-18 11:48:32
Ingredients
12 soft, large, plump dates (soak them in warm water to soften if needed)
2 ripe avocados
1/2 cup pumpkin puree
1/2 cup cocoa powder
1/8 teaspoon salt
3/4 teaspoon cinnamon
1/2 teaspoon pumpkin pie spice
1/2 tablespoon vanilla extract
1 teaspoon balsamic vinegar
1 tablespoon coconut oil, melted
1 tablespoon maple syrup (or honey)
1 tablespoon water
Instructions
Combine all ingredients, except for maple syrup and water, in a food processor. Process for 15 seconds, wipe down the sides, and process for another 15 seconds.
Add small amounts of water if the mousse is not processing very well.
Wipe down the sides of the food processor with a spatula, add maple syrup, and process until smooth.
Taste and adjust if needed (add more syrup for sweetness or cinnamon for spice).
Store in air tight container in fridge.
Enjoy!
Notes
Add a small amount of cayenne to heat it up
The Sisters Kitchen http://www.thesisterskitchen.com/